Former Wisconsin coach Gary Andersen surprised everyone by leaving to become the head man at Oregon State after just two season leading the Badgers. Who will Wisconsin go after to replace him on the sidelines?
8 ) Bob Diaco, Head Coach, Connecticut Huskies
Diaco won the Broyles Award as the nation's top assistant in 2012 when he was Notre Dame's Defensive Coordinator. Even though his first year as UConn's head man was disastrous (2-10), he routinely had the Irish's defense as one of the best in the country while he was there. Looking at how bad Notre Dame's defense is now (84th in scoring defense, 69th in total defense), it's clear he can coach. He was a candidate for the Wisconsin job two years ago before the Badgers ultimately went with Andersen, so he could very likely be a candidate again.
7) Greg Schiano, Former Tampa Bay Buccaneers/Rutgers Scarlet Knights Head Coach
Schiano turned Rutgers into one of the best teams in the country during his tenure there before leaving to coach the Tampa Bay Buccaneers. He was fired from the Bucs after just two seasons, but his success with the Scarlet Knights has turned him into an attractive candidate for several college openings.
6) Jim Tressel, Former Ohio State Buckeyes Head Coach
Why not give Tressel a call? He led the Buckeyes to a national championship in 2002 and won six Big Ten titles from 2001-2010. He resigned from Ohio State after an NCAA investigation revealed that Tressel didn't report infractions that several Buckeyes players were trading game memorabilia for tattoos, and he went on to serve as a consultant for the Indianapolis Colts in 2011. There's no guarantee Tressel wants return to coaching, but it's worth a shot to see if he has any interest in returning to the conference he dominated.
5) Paul Chryst, Head Coach, Pittsburgh Panthers
Chyrst served as Wisconsin's offensive coordinator from 2005-2011 before leaving to become the head coach at Pitt. However, he's been the epitome of mediocrity with the Panthers, coaching them to a 19-19 record during his three seasons there. While he hasn't had a ton of success as a head coach, his past ties to the school make him a possibility.
4) Tom Herman, Offensive Coordinator, Ohio State Buckeyes
Herman has guided the Buckeyes' explosive offense since Urban Meyer took over in 2012, and did his best job to date this season. Ohio State ranks 4th in the country in scoring offense despite losing starting QB Braxton Miller just days before the season started, and they put up 59 points against a good Wisconsin defense in the Big Ten title game a week after backup-turned-starter J.T. Barrett was lost for the season with a broken ankle. He won the Broyles Award for assistant coach of the year, and should be in line for a head coaching job somewhere soon.
3) Dave Aranda, Defensive Coordinator, Wisconsin Badgers
Aranda followed Andersen from Utah State to Wisconsin, and holds an obvious advantage over the other candidates on this list because he's already in Madison. The Badgers' defense has been ranked in the top 20 in all four major defensive categories during each of the past two seasons  - scoring defense (6th, 13th); total defense (7th, 4th); passing defense (17th, 5th); and rushing defense (5th, 17th). Aranda wouldn't be the biggest name, but he's a great coach that commands a lot of respect around the country.
2) Pat Narduzzi, Defensive Coordinator, Michigan State Spartans
Narduzzi has been linked to numerous head coaching jobs around the country, but has yet to take one anywhere. He's been the defensive coordinator at Michigan State since 2007, leading a defense that's been better than Wisconsin's during that stretch. The Badgers would give Narduzzi a chance to stay in the Big Ten at a top school that competes for conference championships every year, but so far he's been unwilling to leave Mark Dantonio's side in East Lansing.
1) Darrell Bevell, Offensive Coordinator, Seattle Seahawks
Bevell has quickly become one of the hot commodities in the NFL coaching world after the Seahawks won the Super Bowl last year, and his resume has him primed to get a head coaching job at the professional level. However, Bevell played quarterback at Wisconsin in the early 1990's, and led them to the school's first Rose Bowl victory in 1994 and back-to-back bowl wins for the first time ever. Bevell was a candidate for the job in 2012 before Alverez was hired, and made the comment that he'd love to return to Wisconsin.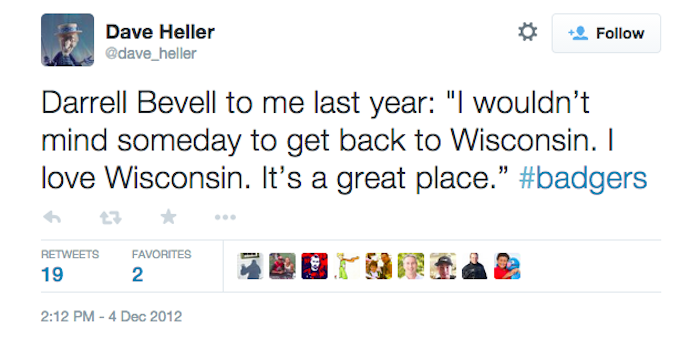 Bevell would be a HUGE slam dunk hire for the Badgers, and is their definite No. 1 target.
Who do you think Wisconsin should hire? Let us know in the comments!
Back to the Wisconsin Badgers Newsfeed