This one will definitely raise a few eyebrows. Wisconsin HC Gary Andersen is leaving to take the same position at Oregon State, just days after leading the Badgers to the Big 10 Championship game.
Oregon State was looking for a replacement after previous head coach Mike Riley left to take the job at Nebraska vacated when Bo Pelini was fired. Here's the official statement from Wisconsin athletics: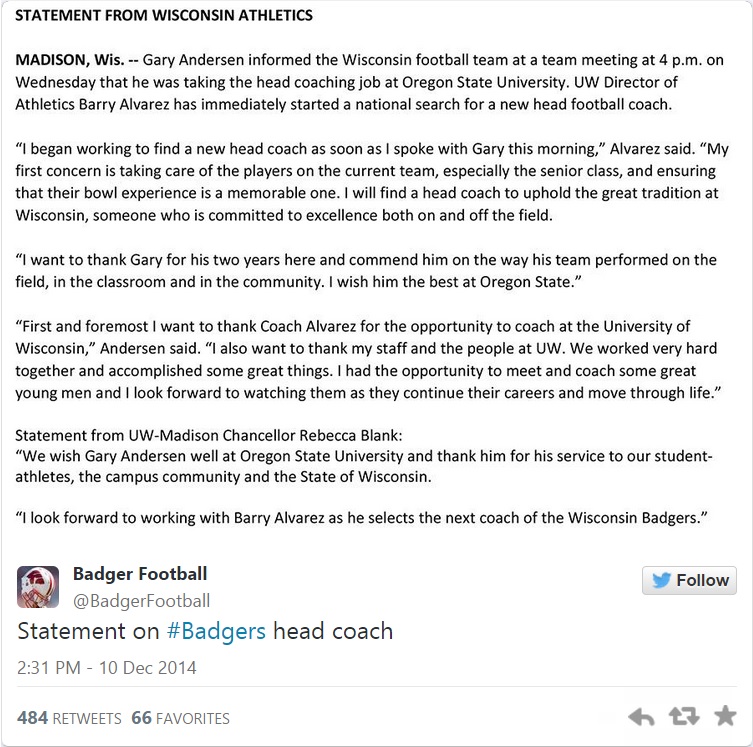 Prior to taking the Wisconsin job, Andersen spent four seasons at Utah State, where he compiled a 26-24 overall record. In two seasons at Wisconsin, Andersen was 19-7. The Badgers are scheduled to play #19 Auburn in the Outback Bowl on January 1.
This move will come as a surprise to most fans - Andersen has no ties to Oregon State or the northwest region. After graduating from the University of Utah, Andersen coached primarily in the state of Utah before taking the Wisconsin job.
Back to the Wisconsin Badgers Newsfeed