We're in the beginning stages of the Washington Wizards' offseason preparations, and there are plenty of plots and subplots to follow on the road to the NBA Draft and July's free agent push. Here's the Top 3 Wizards Storylines For The 2015 NBA Offseason.
3. Will Washington find a stretch post in free agency?
The Washington Wizards have plenty of rotation players who can do work in the post, but there's nobody currently on the squad in the mold of a Paul Millsap -- a stretch frontcourt player who can do work anywhere from the restricted area on out to the perimeter. The NBA is moving towards the era of the stretch four, so it may behoove the front office to offload Nene and his $13 million annual salary via trade, using that windfall to make a run at someone like Kevin Love or the aforementioned Millsap.
2. Will the Wizards renew Ernie Grunfeld's contract?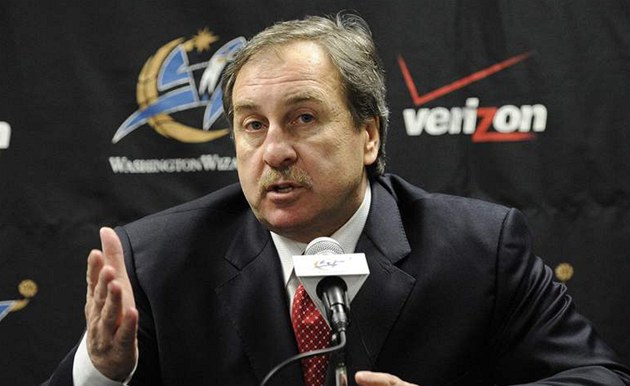 The team's President of Basketball Operations is polarizing to say the least amongst Wizards fans. Grunfeld's philosophy of building through out-of-house options rather than investing time/effort/money into homegrown draft picks has caught the ire of some Washington fans, and his inexcusable contract missteps before Ted Leonsis became majority owner still sting to this day. We believe he'll stay, but that's not to say that the spotlight won't be shining brightly on him (and his past mistakes) until then.
1. What do we make of the Randy Wittman situation?
Wittman's offensive game-planning was a couple steps above questionable all regular season wrong, prompting some in the basketball community to dub the Wizards' sets as a "toilet bowl offense." On the flip side, Wittman has been a boon for the defense over the past four seasons and has led the team to two-straight Eastern Conference Semifinal appearances. A vocal section of the fan base wants Wittman out in favor of a younger, more offensively-minded coach. We're not sure they'll get their wish, but it'll be interesting to watch and speculate over in the coming weeks.
Follow our Washington Wizards team page for the latest Wizards news!
Back to the Washington Wizards Newsfeed