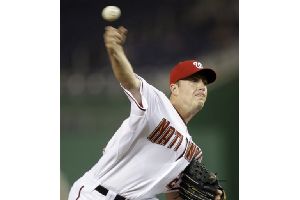 I was very impressed with Jordan Zimmermann's start against the Baltimore Orioles. He wasn't as sharp as usual and didn't have his best stuff, but the kid battled and fought through it and won.
That's the sign of a great pitcher and Jordan Zimmermann is on his way. That showed a lot of heart and mental toughness in my opinion and should boost his confidence even more.
His season record of 5-6 isn't that impressive at first glance, but that's because the Nats offense didn't give him any run support. It's all starting to come together for him and he will be an important member of the starting rotation in D.C. for years to come.
Back to the Washington Nationals Newsfeed