The USC Trojans are the most talented they've been in the past decade, and many have them as the favorite to win the Pac-12 in 2015. Even with head coach Steve Sarkisian's recent shenanigans, we know the Trojans have what it takes to win the conference this year. Here's why:
4) Iman Marshall's immediate impact
A top-five recruit, Marshall jams opposing receivers on the line with the best of them and has amazing instincts when it comes to breaking up passes. He's also a highlight-reel tackler, with his YouTube highlights drawing many an ooh and ahh. All of that adds up to a true freshman who could ascend to stardom right off the bat.
3) Steve Sarkisian's genius
Sarkisian may not have impressed at the "Salute to Troy," but he impresses every time on the football field. He produced a 9-4 campaign in his first season with the Trojans, but there is no college football coaching job west of the Rockies which demands instant success quite like USC. Sarkisian has one of the game's most enduring and effective brands at his disposal in recruiting, which he's translated into an amazing about of blue chip recruits that other schools are left dreaming about. USC should only improve in Sark's second season, and all those talented players will have more chances to shine.
2) No other dominant Pac-12 force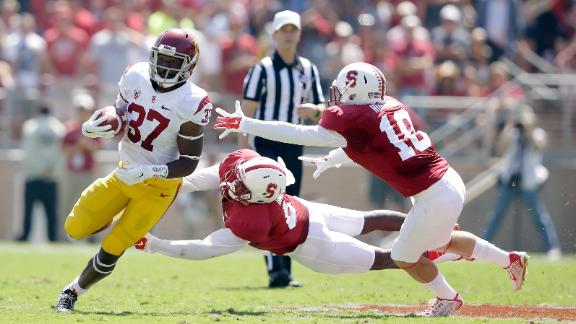 Oregon has been the Pac-12 heavyweight for the past few seasons, but now that Marcus Mariota is in the NFL, they're expected to take a step back this year. UCLA and Arizona State also won't be as good with new starting quarterbacks, and Stanford isn't the team they once were following their 8-5 campaign last season.
1) Cody Kessler's dominance The age of Kessler started in 2014, but the talented junior signal caller still managed to fly somewhat under the radar despite connecting on 69.7 percent of his pass attempts for 3,826 yards, 39 touchdowns and a scant five interceptions. Yes, he'll be without all-everything wideout Nelson Agholor, who'll be playing on Sundays, but Sarkisian's Trojans will still trot out plenty of skill position help around Kessler to make the Bakersfield, CA native a legitimate Heisman hopeful.
Follow our USC Trojans team page for all the latest USC news and rumors!
Back to the USC Trojans Newsfeed
Related Topics: College Football, USC Football, USC Trojans, NCAA Football, Pac-12 Football, Pac-12