There's less than a month left before National Signing Day on February 4, but Steve Sarkisian is still hard at work on USC's 2015 recruiting class. Here's all the latest, as of Friday afternoon:
A Very Big Weekend
USC will host a huge number of high school players this weekend - some are already committed, but others are still weighing their options. Here's a breakdown of who's coming:
Uncommitted Prospects:
4/5-Star LB Porter Gustin (Salem Hills, Utah)*
4-Star LB John Houston (Gardena, CA)
5-Star DT Rasheem Green (Gardena, CA)
Existing commits:
4-Star QB Sam Darnold (San Clemente, CA)
3-Star RB Dominic Davis (Mission Hills, CA)
4-Star JuCo WR De'Quan Hampton (Long Beach, CA)
4-Star TE Tyler Petite (Moraga, CA)
4-Star CB Isaiah Langley (Pleasanton, CA)
3-Star DE Noah Jefferson (Las Vegas, NV)
3-Star DE Christian Rector (Los Angeles, CA)
4-Star DT Jacob Daniel (Clovis, CA)
*recruiting services are split on Gustin's star rating - Scout, ESPN and Rivals have him at 4 Stars, Rivals has him at 5.
USC fans are going to like Jacob Daniel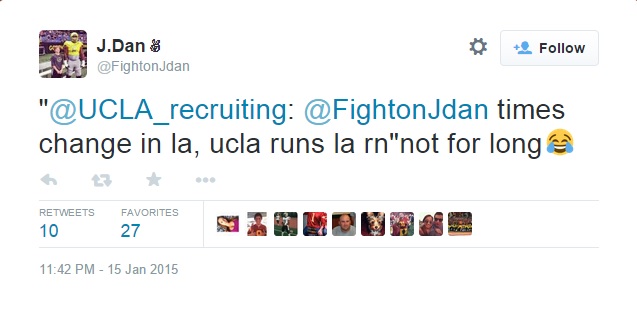 Daniel (pictured above) hasn't set foot on campus yet, and his Twitter handle is @FightOnJdan. This kid is going to be a real Trojan.
Back to the USC Trojans Newsfeed