The USC Trojans are the popular pick to unseat the Marcus Mariota-less Oregon Ducks in the Pac-12, but some key pieces that need to fall in place for the Trojans to reign supreme over the conference this coming season. Here's our list of 3 USC Football Players Who Need To Step Up In 2015.
WR JuJu Smith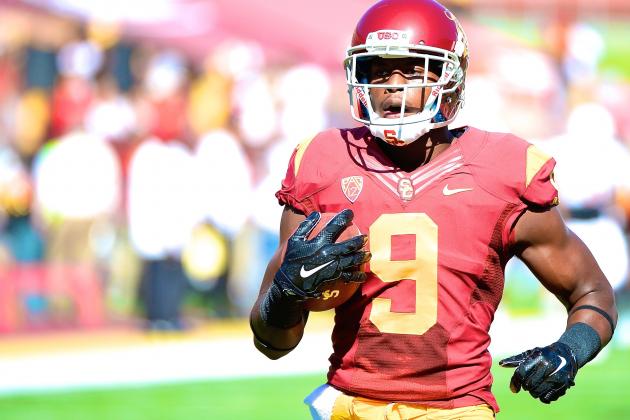 With Nelson Agholor off to the NFL, the talented 18-year-old could be the de facto #1 wideout on top of a DEEP depth chart. Smith excelled as a dynamic version of a possession receiver in 2014, catching 54 passes for 724 yards and five touchdowns. Can he or will he take the next step towards true stardom? If so, QB Cody Kessler and USC's offense will be close to unstoppable.
TE Jalen Cope-Fitzpatrick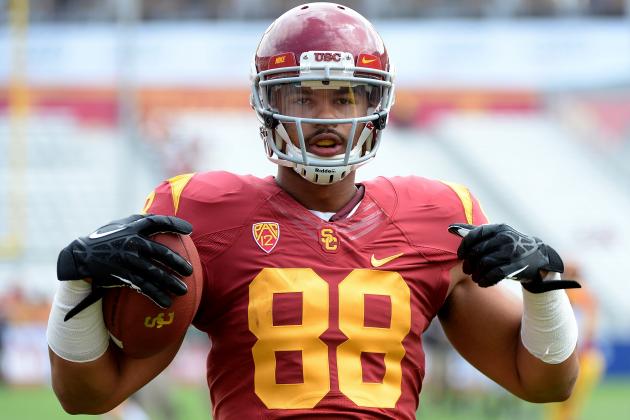 "Tight end is the position of our biggest concern because we don't have the depth we want or need," head coach Steve Sarkisian said recently. "We need everyone to step up here. We might have to rely on some young players to do double duty and use their athletic ability."
The experienced Cope-Fitzpatrick can save Sarkisian some headaches by stepping up in 2015, but there's plenty of room for questioning as he's had just three receptions in 23 gams so far.  He also hasn't played since 2013 after some academic eligibility issues. Oklahoma transfer Taylor McNamara and incoming freshman Tyler Petite are waiting in the wings if he can't hack it, but neither of them have the experience necessary to be considered a sure thing.
LB Scott Felix
Felix turned plenty of heads in training camp last summer, but despite appearing in all 13 games and starting five in 2014, Felix posted a paltry 1.5 sacks. In fact, he started and played a signficant amount in the UCLA game, all without tallying a single tackle. The redshirt junior is in danger of losing his spot if he can't crack the glass ceiling. If he can, though, his natural talent will make him a powerful defensive weapon for the Trojans.
Back to the USC Trojans Newsfeed