UCLA quarterback Brett Hundley was one of the Heisman favorites before the season started, but dropped out of the race when the Bruins lost two straight games to Utah and Oregon at the start of October.
However, with just three weeks left in the regular season, he has a chance to resurrect himself and make one final push to win the country's most coveted individual award.
Hundley has thrown for 2,547 yards and 17 touchdowns with only four interceptions, while rushing for 564 rushing yards and 7 touchdowns on the season. His passing stats are comparable to fellow Heisman contenders Bryce Petty (Baylor), Dak Prescott (Mississippi State), and Jameis Winston (Florida State), and his rushing numbers are comparable to those of Marcus Mariota (Oregon) and Trevone Boykin (TCU).
Hundley is also getting hot at the right time. In UCLA's four games since those two losses, he's thrown for 1,021 yards while rushing for 343 more and scoring 10 total touchdowns.
T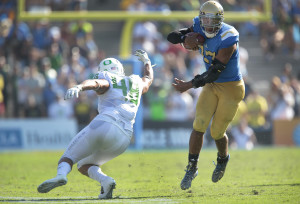 he numbers are there, but what's missing for Hundley - and for the Bruins in their quest for the College Football Playoff - is a big game on a big stage. UCLA will have a chance this weekend when they host USC, which is Hundley's first opportunity to re-introduce himself to Heisman voters on national TV since the Oregon game.
If the Bruins beat the Trojans, they'll face Oregon in the Pac-12 Championship Game - yet another chance to have a big game on a big stage.
Hundley held his own against the No. 3 Ducks in their first matchup, but Mariota outplayed him. If Hundley can reverse that this time around and lead UCLA to a victory, he'll make a better case for the Heisman than Mariota and the Bruins will have a strong chance at making the playoff.
Mariota and Wisconsin running back Melvin Gordon are currently the two favorites to win the Heisman, but no one has really taken over the race. That's left the door open for a dark horse candidate to make a late push for the award, and Hundley has the best chance to do so if he can continue to play well.
RELATED ARTICLES
2014 Heisman Power Rankings: Here Comes Melvin Gordon
Back to the UCLA Bruins Newsfeed