The UCLA Bruins finished with a strong 9-3 record and 6-3 in the Pac-12, placing them second in the the South Division. While a loss to Stanford dampened the Bruins bowl outlook, UCLA will still be heading to a bowl game after defeating Virginia Tech in the Sun Bowl last season. Where could UCLA end up this year?
Valero Alamo Bowl (Big 12 vs. Pac-12)
Fri., Jan. 2, 3:45 p.m. PT
Alamodome, San Antonio, TX
The Alamo Bowl seems the most likely destination for the Bruins as the Pac-12 representative against a Big 12 opponent. With teams like Oregon and Arizona ahead of UCLA in the Pac-12 pecking order, the Bruins should be set for San Antonio, with a team like ASU headed to the Foster Farms Bowl.
Foster Farms Bowl (Pac-12 vs. Big Ten)
Tue., Dec. 30, 7:00 p.m. PT
Levi's Stadium, Santa Clara, CA
On the flip side, UCLA could end up in the Foster Farms Bowl if the Sun Devils are taken for the Alamo Bowl. With Arizona State slightly ahead of the Bruins among Pac-12 eligible teams, UCLA's fate likely hinges on the bowl game that remains vacant after the Sun Devils are selected. UCLA would get a nice draw, as they would remain in-state for this game, played in Northern California.
Holiday Bowl (Pac-12 vs. Big Ten)
Sat., Dec. 27, 5:00 p.m. PT
Qualcomm Stadium, San Diego, CA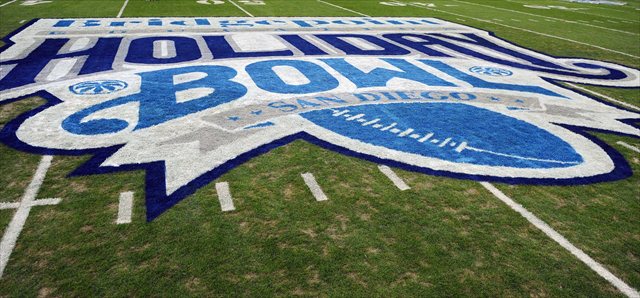 The Bruins could end up in the Holiday Bowl if rival USC doesn't get picked here. Again, this slotting may come down to which school doesn't get picked for this game, rather than UCLA being the first selected. USC has never appeared in the Holiday Bowl, so that could give them a slight edge over the Bruins, though if the Trojans end up at the Alamo Bowl, UCLA is likely next in line over Utah for a trip to San Diego.
 Related Articles:
UCLA's 3 Most Likely Bowl Opponents
Back to the UCLA Bruins Newsfeed