The 2017 NBA Combine wrapped up on Sunday as most of the top prospects in the NBA Draft went through team interviews, athletic & medical testing and some five-on-five scrimmages. A number of top prospects did not attend, but several others helped themselves with their performances. Others, well, were not as fortunate. Here are the biggest losers from the combine:
LOSERS
Moe Wagner, PF/C, Michigan Wolverines
Wagner showed off his mobility and put up solid numbers in the scrimmages, but he also showed why he needs another year of seasoning at Michigan. He looked overwhelmed in the post, particularly defensively, and was inconsistent with his jumper. Furthermore, his measurements raised questions about his defensive potential. Wagner is just under seven feet tall, but only had a seven-foot wingspan. He needs to show improvement on that end of the floor - NBA teams don't see a lot of defensive potential right now, keeping him as a second round prospect despite his offensive versatility.
Dillon Brooks, SF, Oregon Ducks
Another victim of bad measurements, Brooks checked in at just 6-foot-6 with a 6-foot-6 wingspan. That raises plenty of defensive questions - particularly against NBA-size forwards and their ability to simply shoot over him. He's a legitimate tweener who may not be quick or athletic enough to keep up on the perimeter at the NBA level. 
P.J. Dozier, SG/PG, South Carolina Gamecocks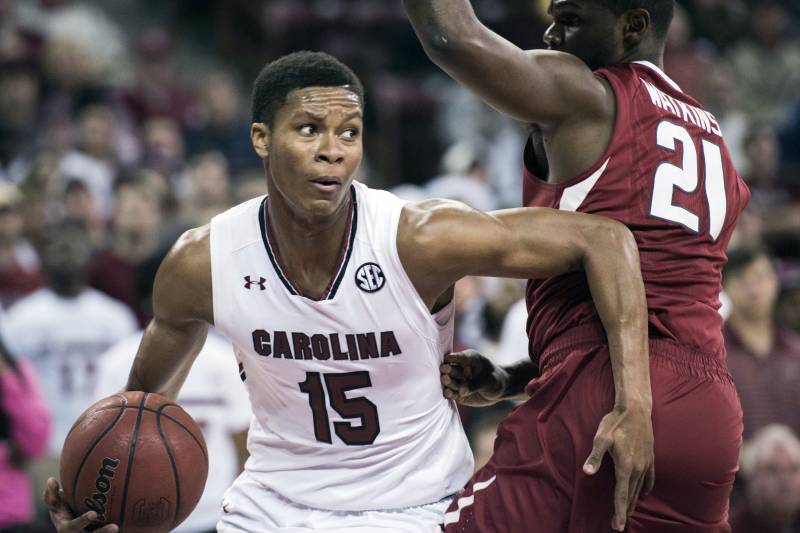 Dozier entered the combine as one of the more interesting prospects in this class. He went to South Carolina as a point guard but can play anywhere on the perimeter and measured 6-foot-7 with a 6-foot-11 wingspan, showcasing his versatility. However, teams are concerned about his inconsistent three-point shooting (29.8 percent). Dozier only validated those doubts and concerns in shooting drills, making just nine of 25 shots from NBA range. That is an area he'll have to show improvement in team workouts.
Melo Trimble, PG, Maryland Terrapins
For the second year in a row, Trimble was extremely disappointing at the combine. He's probably the only player whose stock was hurt by the scrimmages. He didn't make a single field goal on Thursday and committed five turnovers - more than anyone else at the combine. Trimble wasn't able to create any offense and seem overwhelmed by the other point guard prospects he was going up against. He played better on Friday, scoring 12 points while dishing out six assists, but it didn't make up for the damage he caused the previous day. It now seems very likely that he'll go undrafted.
Follow our NBA news page for all the latest NBA Draft news and rumors!
Back to the Top News Newsfeed
Related Topics: NBA Draft News, 2017 NBA Draft, NBA Draft Rumors, 2017 NBA Combine