Heading into the 2016 Kentucky Derby, there is one horse getting all the buzz.
Undefeated Nyquist, who has won all seven of his races including last year's Breeder's Cup, is the odds-on favorite at 3-1. But even though the Doug O'Neill-trained colt will be responsible for most of betting slips on Saturday, there are a few horses who can give him a run for his money at Churchill Downs this Saturday.
Gun Runner (8-1 odds)
Gun Runner is 4-for-5 in his career races, with his only loss coming at Churchill Downs when he couldn't hold onto a stretch lead. Could the second time be the charm for this Steve Asmussen-trained colt? He has looked fantastic of late, winning the Louisiana Derby by 4.5 lengths and holding firm atop the Road to the Kentucky Derby points leaderboard with 151.
Mor Spirit (12-1 odds)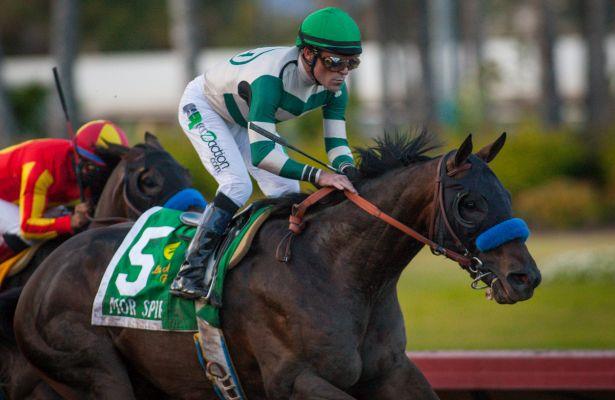 Mor Spirit is trained by Hall of Famer Bob Baffert, who has four Derby wins on his resume including the first leg of last year's American Pharoah Triple Crown triumph. Gary Stevens, who has won three Derbys in his own right including one with Baffert in 1997, will be jockeying the colt. While the No. 17 post position does the great-grandson of 1977 Derby winner Seattle Slew no favors, no horse has more experience in his corner than Mor Spirit. 
Exaggerator (10-1 odds)
Exaggerator charges into the Churchill Downs with more momentum than any horse not named Nyquist, winning by 6.25 lengths in the Santa Anita Derby on April 9. He nearly defeated Nyquist in the San Vincente Stakes, but came up just short, losing by 1.5 lengths. His jockey, Kent Desormeaux, has ridden three Kentucky Derby winners including Big Brown in 2008.
Back to the Top News Newsfeed
Related Topics: Horse Racing, Kentucky Derby, 2016 Kentucky Derby