Today is probably the darkest day in the American sports calendar - there isn't a single game being played in any of our top leagues, and in the evening we're forced to endure one of the most vile events in sports history: the ESPYs.
ESPN's self-congratulatory parade of stars stopped being about sports a long time ago - for the past decade, it's been a thinly-veiled, hours-long commercial for the network itself. That's bad enough on its own, but this year's host - Drake - turns the ESPYs from "you probably shouldn't watch this" into "you should be sent to jail if you make anyone else watch this".
With that in mind, here are ten things you could (and should) watch tonight instead of the ESPYs.
10. Soccer (Various Networks/Streams)
Remember the World Cup? Wasn't that fun? There are a bunch of soccer games happening tonight, and they'll all be vastly superior to watching Drake laugh at his own jokes for three hours. There are some solid MLS games, but we'd suggest checking out the Brazilian league to get some of that World Cup flavor. If you don't get those games on TV (which is fairly likely), you can find a list of streams here.
9. Seinfeld (TBS)
We can guarantee that you'll laugh more at a random episode of Seinfeld than at ANYTHING Drake says tonight (note: it doesn't count if you're laughing at him).
You're way better off spending your Wednesday watching a TV program that embraces the fact that it isn't about anything important. There are four episodes on TBS from 6-8, including "The Voice", one of the absolute classics. Oh, Seinfeld isn't sports-related, you say? Just use your imagination.
8. Tour de France: Stage 11 (NBC Sports)
No, there won't be flashy highlights, dunks, home runs or cheerleaders. HOWEVER, we can promise there'll be 100% less Drake, and you're still watching an athletic competition. Sounds like a win-win.
7. Robocop (Esquire Network)
It's on the Esquire network, which we didn't know was a thing until today, but much more importantly: ROBOCOP (the classic version, not the remake).
6. Classic Games on YouTube
Most people aren't aware how much sports awesomeness is available for free on YouTube (and it's there 100% legally, as far as we know). You can choose from classic World Cup matches, complete college football rivalry showdowns to stunning Michael Jordan highlight compilations.
5. Minor League Baseball (Various)
Even though the major leagues are taking the day off because of the All-Star break, the minors are still out there playin' ball. Thanks to the deep minor league system in professional baseball, there are roughly 1,463 games to choose from tonight.
As far as we know, Drake will not be playing in any of them.
4. UFC Fight Night: Cerrone vs. Miller (Fox Sports 1)
We don't know who either of those guys are, either. We kind of expected Fox Sports 1 to go with something stronger to try and pull viewers away from the ESPYs (it's not like that's rocket science), but they somehow found a way to mess it up. Still, you should watch this fight anyway just to stick it to the man.
3. Batman Begins (HBO)
The first of the acclaimed Christopher Nolan/Christian Bale Batman trilogy, this gritty origin story takes the caped crusader in a modern, darker direction. Drake does not appear.
2. Summer League Basketball (Various)
The Summer League is like basketball methadone - everyone knows it isn't the real deal, but when you're craving some NBA action, it'll do in a pinch. Here's a list of the games on tonight.
1. Space Jam (Various)
It's only the greatest sports movie ever made, and no matter how many times you've seen it, it's still infinitely better than the alternative. A classic tale of teamwork, friendship, and triumph against the odds, Space Jam is all about the best qualities of sports - the exact opposite of what's happening on ESPN.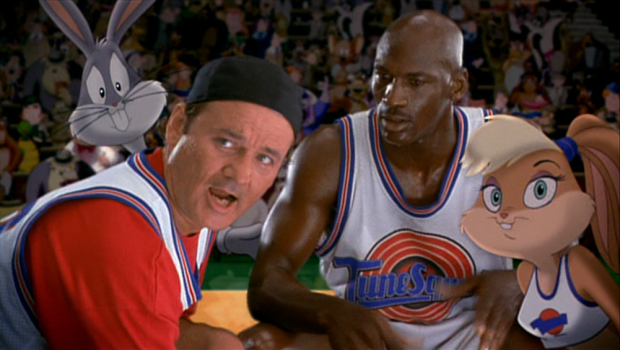 If you don't have this sitting around on DVD or (yikes) VHS, shame on you...but it's out there on the internet if you do a little digging (and by "a little digging", we mean a Google search).

Back to the Top News Newsfeed