We're just a month away from National Signing Day, which means there's a bevy of rumors surrounding the Texas Longhorns' efforts on the recruiting trail. Here's the biggest recruiting stories from around Austin for December 6th.
Official Visit List Expanding For January 15th Weekend
3-star defensive end commit and Madison (LA) standout Malcolm Roach set his official visit to Austin for the weekend of January 15th, adding to the list of nearly 20 prospects who'll be on campus that weekend.
Roach picked Texas back in November over a host of other finalists including California, Mississippi State, Missouri, Tennessee and Arkansas. He hosted Texas assistant Brick Haley last month, and the #27 strong-side defensive end in the Class of 2016 is locked in on Austin with little to no chance that he'll flip before National Signing Day. He hasn't ruled out visiting other schools officially, but no visits are scheduled right now.
4-Star Oregon Decommit On Radar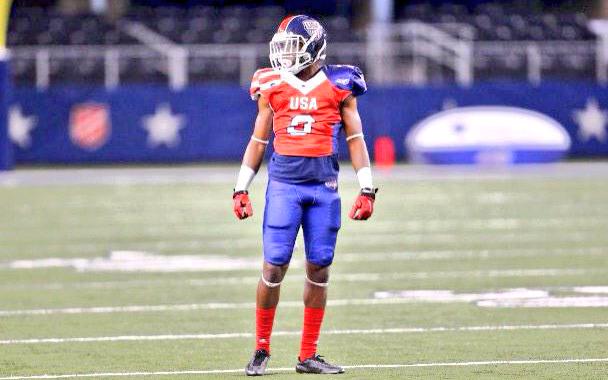 Four-star Sasche (TX) cornerback Jared Mayden decommitted from Oregon today, and the Texas Longhorns appear to be one of four other schools who can make a legitimate run at him before National Signing Day -- the others being Ohio State, Florida State and Baylor.
247Sports' EJ Holland contacted Mayden's mother to ask if Texas has a chance at landing Mayden, and all she said was "we'll see." However, she did say that she hopes UT will recruit his brother, 2018 Sachse QB recruit Jalen Mayden.
Kongbo Leaning Towards Washington
Elite JUCO defensive end Jonathan Kongbo has nixed his verbal commitment to Tennessee. That's great news for Texas, but they'll still need to jump two West Coast favorites -- Oregon and Washington -- to make a legitimate run at him.
The #1 overall JUCO prospect on the board right now, Kongbo holds 23 offers and isn't likely to make a decision anytime soon. Keep an eye on UT, even though they're back in the pack right now.
Back to the Texas Longhorns Newsfeed
Related Topics: Texas Longhorns Football Recruiting, Malcolm Roach, Jonathan Kongbo, Jared Mayden