The Texas Longhorns are a disappointing 11-14 in two seasons under head coach Charlie Strong. That record and lack of a bowl game last year have led to calls for Strong's job. Expectations are massive in Texas, although the indication from the Texas athletic department is that Strong will get at least one more year. Strong took over a Texas team devoid of talent and he's done a solid job recruiting in his limited time on campus. However, an off-the-field incident involving Strong and a Louisville booster could give Texas an out to fire Strong "for cause." 
Strong has been asked to testify in a divorce case involving a Louisville booster. Although it's not spelled out, it's clear that the booster accuses the married Strong of having an affair with the booster's wife. The divorce case also gives Texas an out if the school wants to fire Strong "for cause" via the moral clause in his contract. 
Many at Texas believe Strong deserves more time, and there's good reason for those beliefs. But this gives Texas yet another reason to look into dismissing Strong, and it could hurt his case if Texas starts the season slowly. At this point, it remains unlikely that Strong is fired, but it's a possibility that should be discussed. If Strong is fired, the Longhorns will likely promote a coach on an interim basis for the 2016 season. Then, the Longhorns will begin their search for a full-time candidate. Below, we have the likely interim candidates and the top targets for Texas after the 2017 season, if Strong is indeed fired. 
Interim Candidates: 
2. Vance Bedford, defensive coordinator
Bedford is a long-time Strong assistant, and has more coaching experience than most of the Longhorns' staff. While he lacks a head coaching background, he's a veteran coach. If Strong is fired, Bedford might not be willing to take over as Strong's replacement given his ties to the coach.
1. Sterlin Gilbert, offensive coordinator 
Gilbert is one of the many new additions to Texas, and is just 37 years old. He doesn't have any real ties to Strong outside of this season, meaning he'd be willing to take over as the interim coach if needed. However, his lack of experience could work against him. It's not a great interim pool for Texas is something happens with Strong. 
10. PJ Fleck, head coach, Western Michigan
Fleck is one of the rising stars in the coaching world, taking the Broncos from a 1-11 team in 2013, his first year on the job, to 8-5 last year. They're bowling again this year. At just 34 years old, he could bring a young energy to an Texas program that's looking for a spark.
9. Chad Morris, head coach, SMU Mustangs
Morris went 2-10 last season, but is an up-and-comer. He has plenty of ties to Texas, which could help him. Morris would need to have a big season at SMU to get any real consideration for the job, but he's worth monitoring. 
8. Jim Mora, head coach, UCLA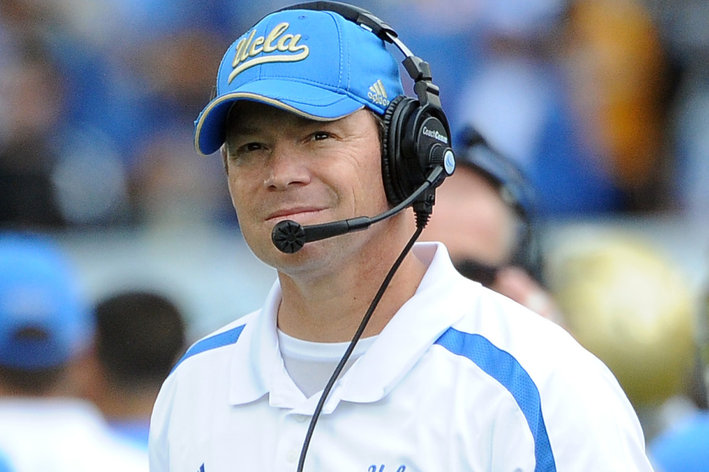 Texas offered Mora the job before it went to Strong, but Mora turned it down. If Strong is fired, Texas could try to lure Mora away from UCLA again. 
7. Todd Graham, head coach, Arizona State 
Graham has been a job-jumper in the past (he went from Tulsa-Pittsburgh-Arizona State in three years), but Texas could keep him in one place for a long time. Graham just received a raise from ASU, but Texas has the funds to make the raise seem like pocket change. 
6. Dabo Swinney, head coach, Clemson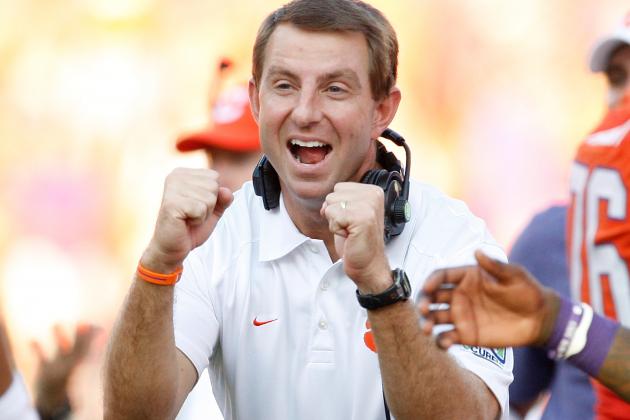 Swinney has been at Clemson since 2003, but the allure of Texas is hard to ignore for any coach. Swinney has done a great job with Clemson and could do even better with Texas' resources. For more Texas coverage, download the Chat Sports Android and iPhone app.
5. Jon Gruden, ESPN Analyst 
Gruden's name pops up every time a major college head coaching job becomes available. If Strong is fired, expect that to be the case again this season. Gruden was rumored to have interest in the job last time and that will likely be the case again. Gruden's college coaching experience is limited, but he's good enough to win anywhere. 
4. Hugh Freeze, head coach, Ole Miss 
Freeze has come along way from being "the coach from The Blind Side." He's a rising star and has Ole Miss in contention for a SEC West title. If Texas were to come calling, Freeze could have a tough time turning the Longhorns down. For more Longhorns news, download the Chat Sports Android and iPhone app. 
3. Art Briles, head coach, Baylor 
Briles was linked to the Texas job when the Longhorns hired Strong. While he's gotten himself into hot water recently, Briles is still one of the best coaches in college football. Briles might not want to leave Baylor, but the chance fix Texas is an intriguing one. 
2. Tom Herman, head coach, Houston Cougars It seems like it's only a matter of time before Herman gets a big-time job. He's done wonders in just one year with Houston, and will be a candidate for nearly every job that opens up. His background in Texas could help him and he likely would be all over the Texas job. 
1. Nick Saban, head coach, Alabama 
Saban was Texas' top target the last time the job was open, but Saban ultimately decided to stay at Alabama. Texas came close to snagging Saban last time. If the job opens up, they'll go hard at Saban again despite his winning of yet another national title. Whether or not Texas can actually land Saban is another question entirely.  
Back to the Texas Longhorns Newsfeed
Related Topics: Texas Longhorns Football News, Texas Longhorns Football Rumors, Charlie Strong