Updated 1/12/16 at 1:22 pm EST
The Tennessee Titans fired head coach Ken Whisenhunt after a 1-6 start to the season and a 3-20 mark overall since taking over the job in 2014. He was the second coach to be fired this season, joining Miami's Joe Philbin, who was fired by the Dolphins after a 1-3 start. 
Mike Mularkey took over as the interim head coach, but how likely is it that he'll retain the job permanently now that the Titans finished with the worst record in the league? Here are 10 potential candidates that could take over the job this offseason:
10) Darrell Bevell, Seahawks offensive coordinator
Bevell knows how to work with multifaceted (and non-traditional) quarterbacks and also has proven capable of putting together a beyond-capable running game in this league. He was also a candidate for seemingly every opening last year, and Tennessee's need for an offensive spark could be what does the trick.
9) Mike Shanahan, former Broncos/Redskins head coach
Shanahan is interested in returning to coaching, and is only three years removed from leading the Washington Redskins to the playoffs (which seems like a real feat nowadays), but he'll want to have some front office input as well. If the Titans are willing to give him that, Shanahan is a proven commodity who would command attention from everyone in the locker room.
8) Teryl Austin, Lions defensive coordinator
Austin has had a relatively short NFL coaching career to this point, but he's been extremely successful. He made them one of the best units in the league last year in his first season on the job while overcoming a multitude of injuries to key players and helping Detroit get back to the playoffs. Before that, he served as the defensive backs coach of Seahawks, Cardinals, and Ravens from 2003-2013 - taking a break to be Florida's defensive coordinator in 2010 - but he doesn't have any prior head coaching experience. Still, he's one of the rising stars in the coaching world and receiving a lot of interest for a few teams last year.
7) David Shaw, Stanford head coach
Shaw is like a painter when it comes to putting together an offense. The Stanford head coach's creative, sometimes off-the-wall approach to putting together an attack could be just what the Titans need to maximize the weapons they currently have on the roster. Add in the fact that the former NFL assistant's name has been tossed in the hat for several lesser jobs before this (Hello Oakland), and you've got a potential match in Tennessee.
6) Sean McDermott, Panthers defensive coordinator
McDermott has done a wonderful job in Carolina and it's only a matter of time before he gets a head coaching job. He's going to be a very popular candidate this season and could have his choice of several jobs.  
5) Hue Jackson, Bengals offensive coordinator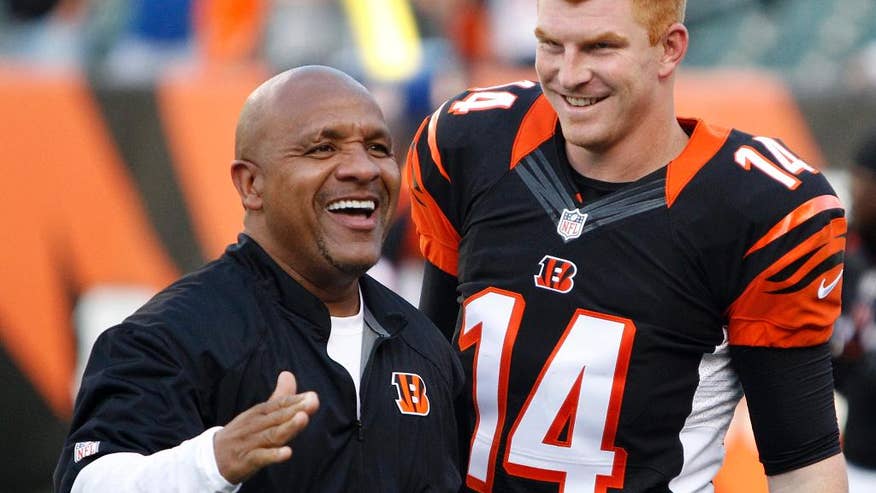 Jackson guided the Oakland Raiders to a .500 record in 2011 (no small feat, considering how little he had to work with and how bad they've looked since), and it's only a matter of time before he gets another shot at a full head coaching role. He fits the mold of what Tennessee would be in the market for -- innovative, impassioned and multifaceted as a coach.
4) Doug Marrone, Jaguars OL/assistant head coach
Marrone had a relatively impressive 15-17 record as head coach of the Bills over the last two seasons given the team's major QB issues, but opted out of his contract after numerous disagreements with the front office. Many teams were impressed with his work in Buffalo and he was expected to get another job elsewhere, but found himself on the job market a little too late to land the kind of job he wanted. He'll be a target for several teams this offseason and the Titans are scheduled to interview him. 
3) Josh McDaniels, Patriots offensive coordinator
McDaniels has rebuilt his reputation while leading the Patriots' offense for the past four seasons after a less-than-successful head coaching debut in Denver. He doesn't have any connection to the Titanns, but he has a strong desire to be an NFL head coach again, and Tennessee has a talented young roster already assembled that would be very appealing to McDaniels.
2) Chip Kelly, former Eagles head coach
We all know about Kelly's infatuation with Mariota, who was his college quarterback at Oregon and Kelly thinks is the perfect quarterback to run his system. He tried trading way up in the draft to get Mariota this past summer, but the Titans were set on drafting him. Now that Kelly has been fired, he can rejoin Mariota in Tennessee. The Titans were linked to him earlier this season and now they can have him without sending the Eagles anything in return. 
1) Mike Mularkey, Interim head coach
This is a good spot for Mularkey. He's got the blessing of the locker room, but there didn't seem to be enough progression under him after Whisenhunt was fired to peg him as a favorite. That being said, the Titans like him as a stable coach, and think the continuity in the staff would hlep quarterback Marcus Mariota.
Back to the Tennessee Titans Newsfeed
Related Topics: Brian Kelly, Josh McDaniels, Kevin Sumlin, Teryl Austin, Darrell Bevell, Chip Kelly, David Shaw, Hue Jackson, Mike Shanahan, Adam Gase, Kyle Shanahan, Titans News, Ken Whisenhunt