Every week of an NFL training camp is crucial to the formation of a team's 53-man roster, and this next week won't be an exception to the rule for the Tennessee Titans. Here's 3 Things To Watch For This Week In Texans Training Camp.
Can Mariota keep the roll going?
Mariota has been on point all training camp long, dazzling coaches and teammates alike with a sense of poise in the pocket that belies his years.. He has the athleticism, arm strength and accuracy to jumpstart the Titans' rebuilding process in year. This week will be another critical one for him to get the reps necessary to make that happen. Oh yeah. There's the fact that he hasn't thrown a pick in the first EIGHT practices of this year's camp. Can he keep the defense-infuriating streak going?
Delanie Walker's thumb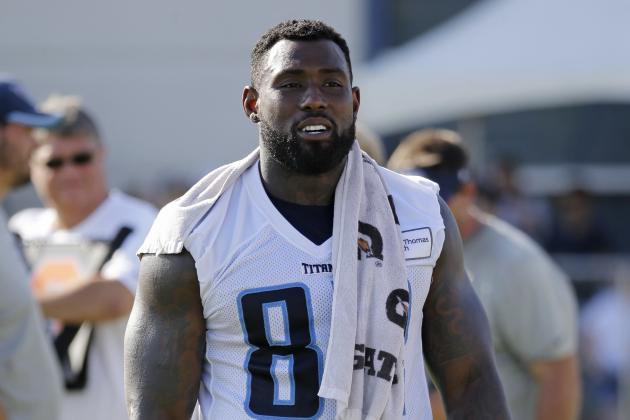 Injuries besieged the Titans in 2014, gutting their depth and leaving them with a skeleton unit as the season segued into December. Tennessee coaches must be mumbling to themselves right now after tight end Delanie Walker sliced his thumb in camp and required 12 stitches -- an injury, if serious, that'll take away a key aerial weapon and safety valve for Mariota. There's no word on just how much time Walker will miss after . With that being said, Tennessee must think up a contingency plan just in case there are complications.
Heading to the ATL
The Titans will get their first crack at real game action in 2015 with Friday's preseason opener in Atlanta. Training camp will take on a different tone with a game to prepare for, so expect an added intensity to pad-on-pad drills and mini-scrimmages. While we don't know just how much Mariota will play, we do know that he'll overprepare himself for his first taste of real NFL competition. It's be interesting and a blast to watch.
Follow our Tennessee Titans team page for the latest Titans training camp news!
Back to the Tennessee Titans Newsfeed
Related Topics: Tennessee Titans, Titans Training Camp, Delanie Walker, NFL, Marcus Mariota