The Tampa Bay Buccaneers went 6-10 last season and fired head coach Lovie Smith, but are a team on the rise. The Bucs have several talented young players and they are counting on them to take the next step this season. A playoff appearance isn't out of the question for Tampa Bay, but the team needs a few players to have breakout seasons for that to happen. 
Breakout seasons happen every year in the NFL. Sometimes, the player in question makes the leap from very good to superstar. Sometimes, a player goes from role player to key starter. So who will be the breakout players for the Buccaneers in 2016? We've put together four of the most likely candidates below.
QB Jameis Winston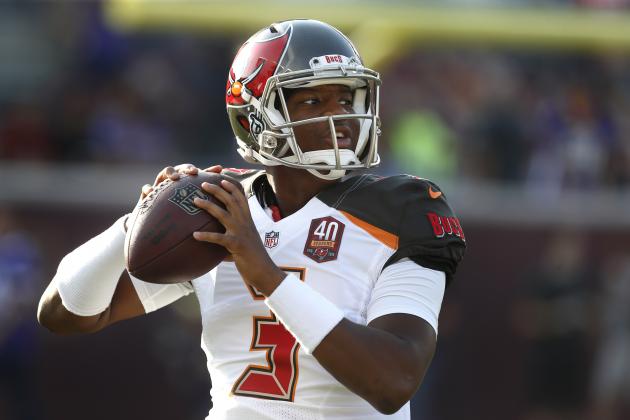 The wee baby Jameis is no longer a rookie. Winston didn't have a promising start to his career, throwing seven interceptions in his first four games. But Winston improved as the season went on, highlighted by a five touchdown game against the Eagles. He showed the makings of a franchise QB and he should take another step forward this year. Winston had 22 passing TDs and 15 picks last season, and should improve on those numbers this year. 
TE Austin Seferian-Jenkins
Seferian-Jenkins has the talent, and we've seen him flash it in the past. The Bucs' second round pick in 2014 opened last year with a 110-yard, two-touchdown game, but his season was limited by injuries. If he can stay healthy, Seferian-Jenkins should have a big season. His rapport with Winston should only help. 
DE William Gholston
Gholston had just three sacks last season and was still the Bucs' top edge rusher. The fourth round pick in 2013 should be even better this year, thanks to the presence of Robert Ayers, who will help out the Bucs' pass rush. Gholston probably won't reach double-digit sacks, but in a contract year, he could double his sack total from last year. Download the Chat Sports App for all the Bucs coverage you need. 
LB Kwon Alexander
The Bucs threw Alexander into the fire last season, starting the first 12 games of the season. However, his rookie season was cut short because of a suspension for violating the league's substance abuse policy. Despite missing four games, Alexander recorded 93 tackles and was one of the best rookies in the NFL. He made the NFL's all-rookie team and should be even better this season. As long as he stays on the field, Alexander should have a breakout campaign. 
Back to the Tampa Bay Buccaneers Newsfeed
Related Topics: Austin Seferian-Jenkins, William Gholston, Kwon Alexander, Bucs News, Buccaneers News, Jameis Winston