Stanford's group of tight ends heading into the 2015 season project to be one of the most versatile, explosive core units in the nation. QB Kevin Hogan's job is going to be made a lot easier by the four guys below, and that means BIG things for Cardinal fans when it comes to the team's offensive attack going forward. Here's our full preview of Stanford football's tight end corps.
Austin Hooper
Hooper led all Stanford tight ends with 40 catches, 499 yards and three touchdowns during his freshman season in 2014. He may have disappeared in the Notre Dame, Washington State and Utah games (3 catches), but he was consistent otherwise. Look to his five-catch, 77-yard performance against Maryland in the Foster Farms Bowl as a showcase emblematic of the talent that has landed him on the Mackey Award watch list (given to the nation's most outstanding tight end).
Dalton Schultz
Schultz is a massive yet lithe redshirt freshman (6-foot-6, 233 pounds) who head coach David Shaw terms as the team's "best blocking tight end." He also has soft hands and great breakaway speed, making him a multi-faceted threat both in sealing the edge and taking the tops off of opposing secondaries in the second and third levels.
The others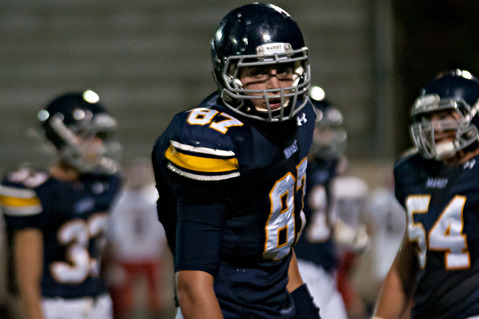 Greg Taboada (6-foot-5, 244 pounds) and Eric Cotton (6-foot-6, 253 pounds) resemble offensive linemen more than they do traditional tight ends. They won't be used as much as traditional passing targets as Hooper and Schultz, but they'll be essential depth plays both in two-TE sets and when Shaw wants to spell both Hooper and Schultz.
How will they be used?
No college football program in the nation will rely on their tight ends to open up one-on-one matchups on the outside, provide catches AND run block as much as Stanford will. However, that's not going to be untenable for this marquee group.
"Run and pass look exactly the same," Cardinal safety Dallas Lloyd said recently. "You can't tell which is coming. You have to be obsessed with details just to be in position to defend [them]."
Whether they're employed as decoys or primary threats, a good year for this group could mean a dark horse College Football Playoff run for Stanford.
Back to the Stanford Cardinal Newsfeed