South Carolina fans have a lot to be excited about this season. The Gamecocks are coming off their third consecutive 11-win season, which is something that's never happened before in Columbia. Here's a preview and prediction for each game on the 2014 schedule.
Aug. 28 vs. Texas A&M
South Carolina will open up the college football season at 6:00 on Thursday night, which has become somewhat of a tradition in Columbia. The Aggies are not only trying to replace America's favorite backup quarterback (Johnny Manziel), but also their best offensive lineman (Jake Matthews) and wideout (Mike Evans) and they return most of what was one of the nation's worst defenses last year. Both teams have holes they need to fill, but the Gamecocks are in a much better position to do so than A&M.
Prediction: South Carolina 38-20
Sep. 6 vs. East Carolina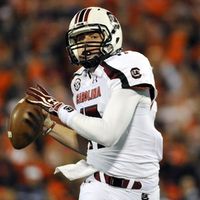 The Gamecocks will face a Pirates team that's got a serious passing attack. Senior quarterback Shane Carden threw for over 4,000 yards last season. Carden will have his favorite target, senior receiver Justin Hardy, who has over 1,000-yards receiving in each of the past two seasons. The Pirates will try to exploit the inexperience in the South Carolina secondary, but they will have to do it inside a rowdy Williams-Brice Stadium.
Prediction: South Carolina 41-17
Sep. 13 vs. Georgia
Once again, these two teams are the favorites to win the SEC East, though the Bulldogs ended a three game losing streak to the Gamecocks last year. Both teams will sport 5th-year seniors who are just now getting a chance to start as their quarterbacks. UGA running back Todd Gurley might be the best back in the nation (although SC's Mike Davis might have something to say about that in this matchup, but the teams are too evenly matched and this should be a toss up. But since the game is in Williams-Brice, the Gamecocks get the edge.
Prediction: South Carolina 34-30
Sep. 20 @ Vanderbilt
South Carolina will travel to Nashville in week four to battle Derek Mason's Vanderbilt Commodores. The Gamecocks will have to stop running back Jerron Seymour, who will be looking to top the 1,000-yard rushing mark for the first time in college football career. By week four, it will be much more clear how this Vanderbilt team is going to look after the departure of head coach James Franklin to Penn State during the offseason.
Prediction: South Carolina 31-20
Sep. 27 vs. Missouri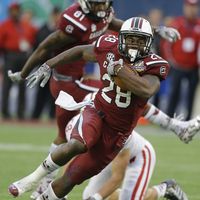 South Carolina were the only team to beat Missouri in the SEC last year (up until Auburn in the conference championship game, of course) in a game that the Tigers, quite frankly, should've won. Mizzou will be looking to get revenge, but they lost practically every impact player from their squad last year. They'll be good, but not good enough to beat the Gamecocks on the road.
Prediction: South Carolina 35-24
Oct. 4 @ Kentucky
Steve Spurrier was undefeated against Kentucky until the 2010 Gamecocks lost at Commonwealth Stadium after beating the then-number one Alabama Crimson Tide. When the Gamecocks played the Wildcats there in 2012, South Carolina trailed 17-7 at halftime before outscoring Kentucky 31-0 in the second half. Mark Stoops has done some recruiting since taking over this job, and this game could be trap if South Carolina doesn't prepare themselves seriously.
Prediction: South Carolina 42-28
Oct. 18 vs. Furman
Hah.
Prediction: SC 48-10
Oct. 25 @ Auburn
If there's one team from the SEC West that's been trouble for the Gamecocks, it's the Auburn Tigers. The Tigers made the most tremendous strides in 2013, earning a berth to the BCS National Championship. Even though they lost to Florida State, Gus Malzahn's team proved they were the toughest and luckiest team in the SEC. This will be the most difficult test for South Carolina's defense this season, as Auburn quarterback Nick Marshall wants another shot at the National Title.
Prediction: Auburn 31-28
Nov. 1 vs. Tennessee
A loss in Knoxville a year ago kept the Gamecocks out of the school's second SEC Championship game. Tennessee has some talented, experienced role players, but don't return a single starter on either the offensive or defensive lines. Weak lines get exposed in the SEC, especially on the road, and South Carolina will have one of the better offensive lines in the country. Expect the Gamecocks to dominate the trenches and get their revenge.
Prediction: South Carolina 34-17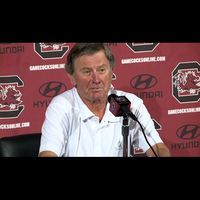 Nov. 15 @ Florida
Steve Spurrier will return to his old stomping grounds, and South Carolina will get a dose of what will possibly be the best defense in the SEC. Vernon Hargreaves will lead a secondary that will be able to suffocate most teams on the Gators' schedule. If Will Muschamp can fix the problems Florida had on offense a year ago, the Gators will have a better year than most people expect.
Prediction: South Carolina 26-13
Nov. 22 vs. South Alabama
Again, HAH.
Prediction: SC 45-7
Nov. 29 @ Clemson
The 'Ole Ball Coach has been very successful in the Battle of the Palmetto State in each of the past five seasons, and South Carolina fans don't want to see anything change about that. Dabo Swinney will have a different looking team this season, as Cole Stoudt will start the season at quarterback for the Tigers. By the time they play South Carolina, there very well could be a change, as true freshmen DeShaun Watson will try to win that battle with Stoudt. The Gamecocks will have to move the ball early and often, as this could be the best Clemson defense they have faced since starting their streak of rivalry wins.
Prediction: South Carolina 35-21
Back to the South Carolina Gamecocks Newsfeed