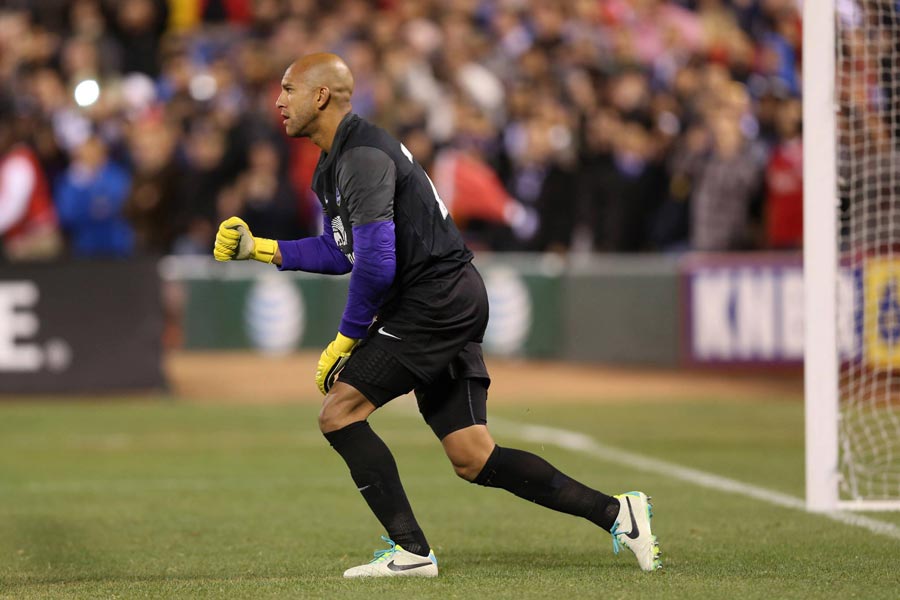 Tim Howard hasn't played with the U.S. National Soccer Team since the squad's last World Cup qualifier back on June 18, taking a months vacation before joining up with his club side (Everton of the English Premier League) back on July 21 for a friendly against fellow English side Blackburn Rovers.
The vacation meant that Howard chose to sit out the CONCACAF Gold Cup, as did many of the U.S.' top players. But the American's won the trophy anyways for the first time in the last three tournaments, and although Howard didn't playing with the team, he still followed their progress closely.
"There's nothing better than drinking a beer and watching the boys play," said Howard after Everton's win over Italian champions Juventus in the first round of the International Champions Cup Wednesday in San Francisco. "Those are some of my best friends in the world, and I couldn't be happier. I love watching those guys play. I was down on vacation at the beach and I would go inside and watch the games. It was just a lot of fun, and I'm happy to have our cup back."
It's no accident that Howard referred to the Gold Cup title as "our cup." His U.S. team has won four of the last seven Gold Cups, while Mexico has taken the remaining three, including two in a row before this year.
"It's something that we take very seriously," Howard said. "It's good to have our hands on that trophy again. It's something that we would like to do always. And it's eluded us the last couple of years, so it's nice to have it back."
Howard is expected to rejoin the U.S. team when they resume World Cup qualifying on September 6 in Costa Rica, and continue on September 10 against Mexico in Columbus, Ohio. The Premier League and other top leagues in Europe and worldwide will take a two-week break to allow players to represent their national teams.
Back to the Soccer Newsfeed