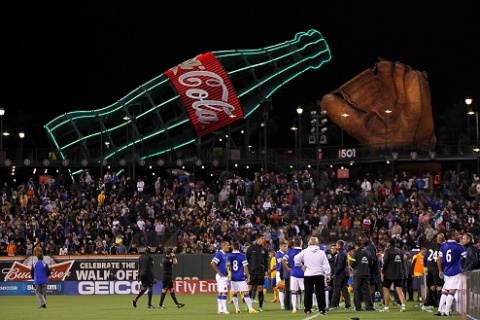 AT&T Park in San Francisco is the home of one champion in the San Francisco Giants. Wednesday night, it hosted another in Italian soccer league champion Juventus, playing English side Everton in the first round of International Champions Cup.
The field was laid approximately along the left-field foul line, with the pitchers mound leveled and temporary grass covering the infield dirt. The Giants bullpen mound in left field was also leveled, and more temporary grass was placed over much of the warning track in the outfield to give the pitch just enough length.
Everton and U.S. national team goalie Tim Howard characterized the turf as "dry and sticky," but acknowledged that was more a reflection on the San Francisco climate than the temporary grass that covered roughly a quarter of the field.
"Really it was awesome (to play here)," said Howard after the game. "I watched Barry Bonds hit all those home runs into the water and I've always been amazed at this place. I've admired it from afar and it was really exciting."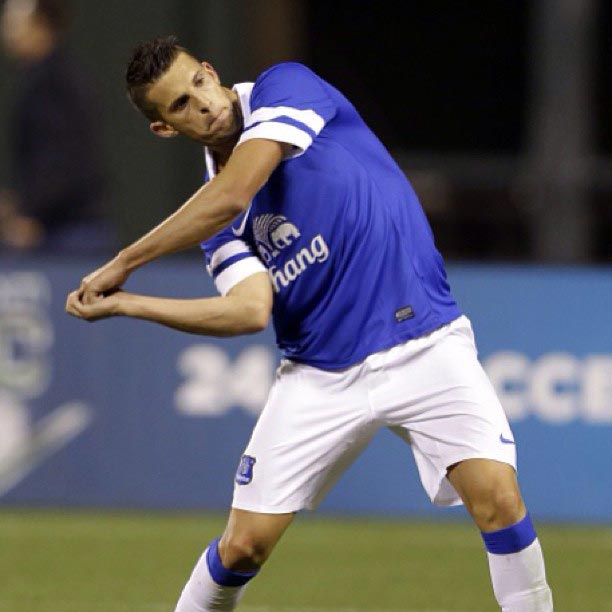 Perhaps the highlight of the match came when midfielder Kevin Mirallas scored to give Everton a 1-0 lead in the 61'. The Belgian national celebrated by swinging his hands as if holding a baseball bat and then watching his "home run" sail over the fence.
"Just a thought in my head," said Mirallas in Spanish. "Some feeling because we were playing in a baseball stadium."
Joked Howard, "Leave it to Kevin for the dramatics. It was fitting and I think the fans appreciated that."
Mirallas even drew one more tie to baseball than just the stadium.
"When you hit a home run it's a point and when you score a goal it's a point, so they are similar in that way."
Back to the Soccer Newsfeed