The start of the SEC football season is still months away, but it's clear who the very best players in the best conference are. These players are expected dictate the way the conference plays out in 2017, and most figure to be top NFL draft prospects for next year. Here are the top 10 returning players in the SEC for next season:
10) Kamryn Pettway, RB, Auburn Tigers
Pettway struggled with injuries last season, but was Auburn's best offensive player and consistently produced despite opposing defenses stacking the box (because the Tigers had zero threat of a passing game). He averaged 138.7 yards per game and ran for seven touchdowns in seven conference games last year. With Baylor transfer QB Jarrett Stidham now under center for Auburn, Pettway will have some help - and he should flourish.
9) Bo Scarbrough, RB, Alabama Crimson Tide
Alabama may have very well won the national championship if Scarbrough didn't break his leg, and his late-season surge has him in position to be the leader of that running back rotation we mentioned before. A powerful runner at 6-foot-2 and 230 lbs., he is great in short-yardage situations - but also broke some very long runs this season. 
8) Frank Ragnow, OL, Arkansas Razorbacks
The best returning offensive lineman in the conference, Ragnow didn't allow a single sack last year. In fact, he only allowed 12 quarterback pressures all season long - an average of less than one per game. He may be the best lineman in the country in 2017.
7) Jalen Hurts, QB, Alabama Crimson Tide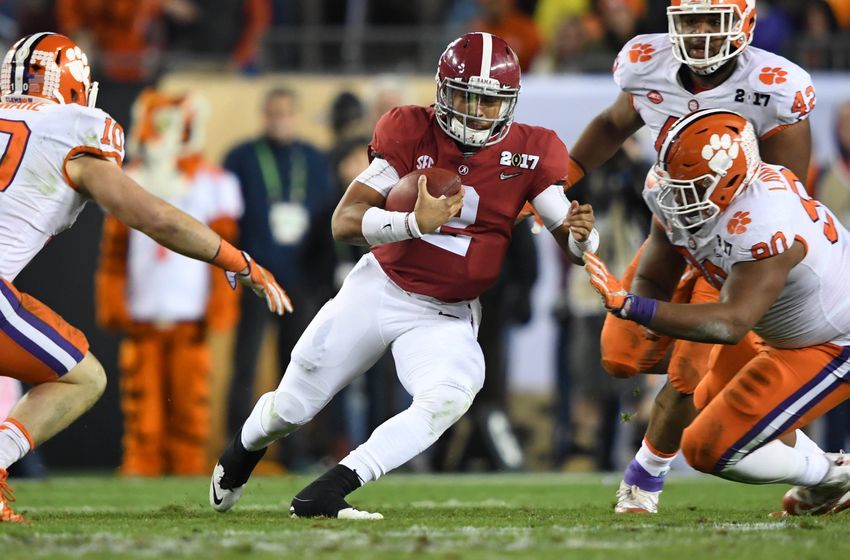 Assuming he takes another step in his development (which is expected), Hurts could become one of the elite quarterbacks in the country. Hurts is a talented dual-threat, although he does need some work on his passing. But his numbers as a true freshman, 65.3 completion percentage, 2,592 yards, 22 touchdowns and nine interceptions with 841 yards and 12 touchdowns on the ground, are mighty impressive. Don't be surprised if he's in the discussion for the Heisman at the end of the year. 
6) Christian Kirk, WR, Texas A&M Aggies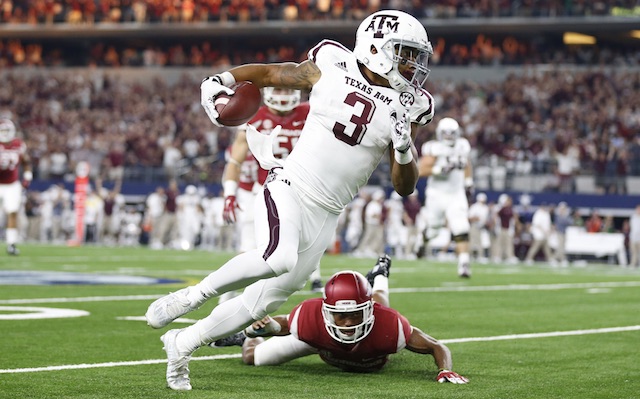 Kirk wasn't quite as good as he was in 2015 (83 catches for 928 yards and nine touchdowns this year vs. 80 for 1,009 and seven last year), but he was still a big play waiting to happen. Kirk is a dynamic return man too, with three punt return TDs. If Texas A&M gets steady QB play, Kirk will have another big year. 
5) Calvin Ridley, WR, Alabama Crimson Tide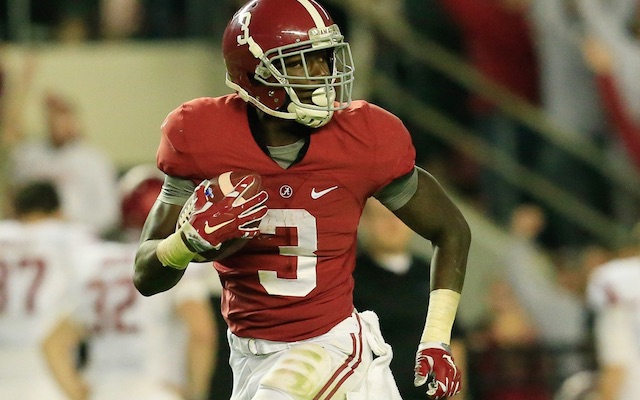 Don't let the regression in stats fool you (Ridley had 72 receptions for 769 yards and seven touchdowns this year after posting 89 for 1,045 yards and seven touchdowns last year), Ridley is one of the best wideouts in all of college football. Alabama's offensive scheme meant a lesser role for Ridley, but there is no doubting his talent. If Jalen Hurts can take a step forward as a passer, that should help boost Ridley's numbers.
4) Derrius Guice, RB, LSU Tigers
Guice has been in Leonard Fournette's shadow over the past two years, and he is ready to claim the spotlight. Despite splitting carries and only starting when Fournette was hurt, Guice racked up 1,387 yards and 15 touchdowns this year. He had two games in which he had over 250 rushing yards and six games with at least 138 yards. Guice looks ready to thrive as LSU's full-time starter.
3) Nick Chubb, RB, Georgia Bulldogs
Before a knee injury ended his season in 2015, Chubb was a Heisman frontrunner. He returned last season and played well, racking up 1,130 yards and 10 touchdowns on 224 carries, but he was still feeling the lingering effects of that repaired ACL early in the season. Now that his knee is not an issue for him, Chubb will be a Heisman favorite again in 2017.
2) Arden Key, DE, LSU Tigers
Key is an athletic freak and was the most productive pass rusher in the SEC last season - yes, more than Texas A&M's Myles Garrett and Tennessee's Derek Barnett. He had 12 sacks in 11 games, and with another offseason to bulk up and add more pass rushing moves (he came to LSU simply as a speed rusher), he should be even more productive in 2017.
1) Minkah Fitzpatrick, DB, Alabama Crimson Tide
You really could flip Key and Fitzpatrick, but I'm giving the nod to one of the most versatile players in the country. He played both cornerback and safety last season, recording six interceptions - two of which he returned for touchdowns. Fitzpatrick is also great against the run, accounting for 5.5 tackles for loss and 1.5 sacks last year. He's a ball hawk who can do it all.
Back to the SEC Newsfeed
Related Topics: SEC Football, NCAA Football