The 2017-18 college basketball season just wrapped up and seemingly every prospect in the country is taking advantage of the new player-friendly rules by testing the NBA Draft waters, which leaves many teams wondering exactly where they stand going into next season. 
Some SEC players - like Kentucky's Hamidou Diallo - have not yet declared for the draft but are expected to do so and stay in the draft pool, while others have already declared without an agent are expected to come back. There are also a couple of players who have made puzzling decisions to sign with agents (like Auburn's Mustapha Heron and Texas A&M's D.J. Hogg) despite being projected to go undrafted.
This list could look a little bit different later this spring once players have to make their final decisions, but right now, here are the top 10 players that are projected to be playing in the SEC next season:
10) Naz Reid, LSU Tigers
LSU will be a top 25 team going into next season largely thanks to the recruiting class head coach Will Wade was able to bring in (No. 5 in the country), and Reid is the crowned jewel. He is a matchup nightmare as a 6-foot-9, 220-pounder who can both handle the ball and be a threat on the low block. Reid's consistency and decision-making need to improve but his dynamic skill set makes him a dangerous threat.
9) Herb Jones, Alabama Crimson Tide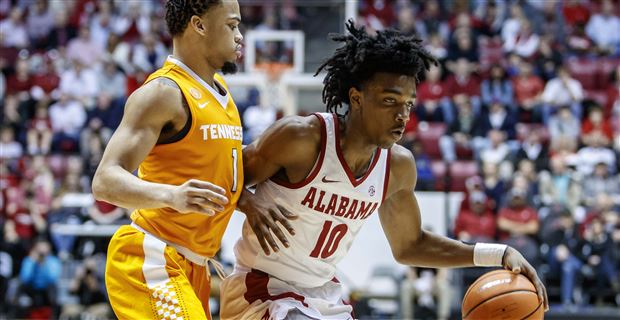 Jones showed flashes of his immense potential last season as the season went on, but he wasn't able to so on a consistent basis. Now, with Collin Sexton gone to the NBA, Jones should see his role increase. He was already one of the best defenders in the SEC last year - that will still be his primary area of dominance - but expect a drastic improvement from him offensively.
8) E.J. Montgomery, Kentucky Wildcats
Montgomery decommitted from Auburn in the wake of the FBI investigation and committed to Kentucky earlier this week. He obviously will benefit from a college weight program, but his speed and athleticism make him a matchup problem at either big man position. The Wildcats are loaded in the frontcourt but expect him to see a good amount of minutes.
7) Keldon Johnson, Kentucky Wildcats
Kentucky has a number of quality returning players and Montgomery is the highest-rated recruit in their No. 2-rated recruiting class, but I think Johnson will be the best player on their team next year. He has quality size for a wing player at 6-foot-6 and 216 pounds to go along with a reliable three-point stroke, but he's at his best attacking the basket.
The Wildcats lacked a consistent go-to scorer last season (Kevin Knox never quite became that guy) - expect Johnson to be that guy.
6) Daniel Gafford, Arkansas Razorbacks
Gafford was projected to be a first-round pick in the NBA Draft, but put those dreams on hold as he decided to return to school shortly after the season ended. His physical gifts give merit to that draft standing - he's incredibly athletic, fast, and a good leaper, which helps him be a feared shot-blocker. However, his skill set does not and needs to improve a good deal. Gafford is still raw and has largely gotten by on his athleticism to this point.
Catch up on the latest college basketball news and rumors in the best sports app available - the Chat Sports App!
5) Bryce Brown, Auburn Tigers
Auburn will be getting Danjel Purifoy and potentially Austin Wiley back after they missed all of last season due to the FBI investigation, but Brown is so vital to Auburn's up-tempo attack that he'll be the leader no matt what Bruce Pearl's squad looks like next season.
How important was he? The Tigers went 18-0 in games where he scored at least 15 points and 8-8 in games in which he did not. Brown will need to become more efficient and more of a playmaker, but expect another big year from him.
4) Quinndary Weatherspoon, Mississippi State Bulldogs
Weatherspoon has been Mississippi State's leading scorer for each of the last two years and will be the key to getting the Bulldogs back to the NCAA Tournament for the first time since 2009. That scoring prowess helped him earn second-team All-SEC honors last season, and he's also an excellent rebounder for a guard. If he can take his game to another level in 2018-19, as expected, Mississippi State will be a top 25 team all season long.
3) Tyler Davis, Texas A&M Aggies
Davis has been one of the SEC's best players since he was a freshman, and while he's testing the NBA Draft waters without an agent, he's expected to return for his senior year. He was a first-team All-SEC selection last year and will only see a bigger role with fellow big man Robert Williams, a lottery pick, leaving the Aggies.
Expect A&M to embrace Davis' strengths - scoring in the low post, strength around the basket, and rebounding - as their centerpiece next season. I'd look for a lot of pick-and-rolls involving him and point guard T.J. Starks, which could become one of the deadlier combinations in the conference.
2) Grant Williams, Tennessee Volunteers
The reigning SEC Player of the Year will be back for the Vols, who will have expectations of repeating as SEC champs. While Tennessee flourished with a well-balanced attack, Williams was the star because of his versatility as a 6-foot-7, 240-pounder who can attack the basket from the perimeter or control the game from the post. Head coach Rick Barnes wants Williams to improve his conditioning so he can spend more minutes on the court, which means their offense will run through him even more.
1) Tremont Waters, LSU Tigers
Surprised to see Waters this high? He was probably the best freshman you didn't hear about last season, as he averaged 15.9 points and 6.0 assists per game despite having very little help around him. That will change thanks to LSU's recruiting class and a full offseason of development for the current roster under Will Wade, and Waters' play will only improve because of it. He'll also continue to be the unquestioned leader.
Waters is essentially Trae Young-lite. He has seemingly endless range, is very quick, and has tremendous vision. Look for him to be perhaps the biggest breakout star of the 2018-19 season as LSU becomes relevant on the national stage.
NEXT READ: Here Are The Favorites To Win The 2019 College Basketball National Championship, According To Vegas
Back to the SEC Newsfeed