More questions were answered about SEC race in week eight's action. Here's how I rank each team going into week nine's slate of games:
14. Vanderbilt Commodores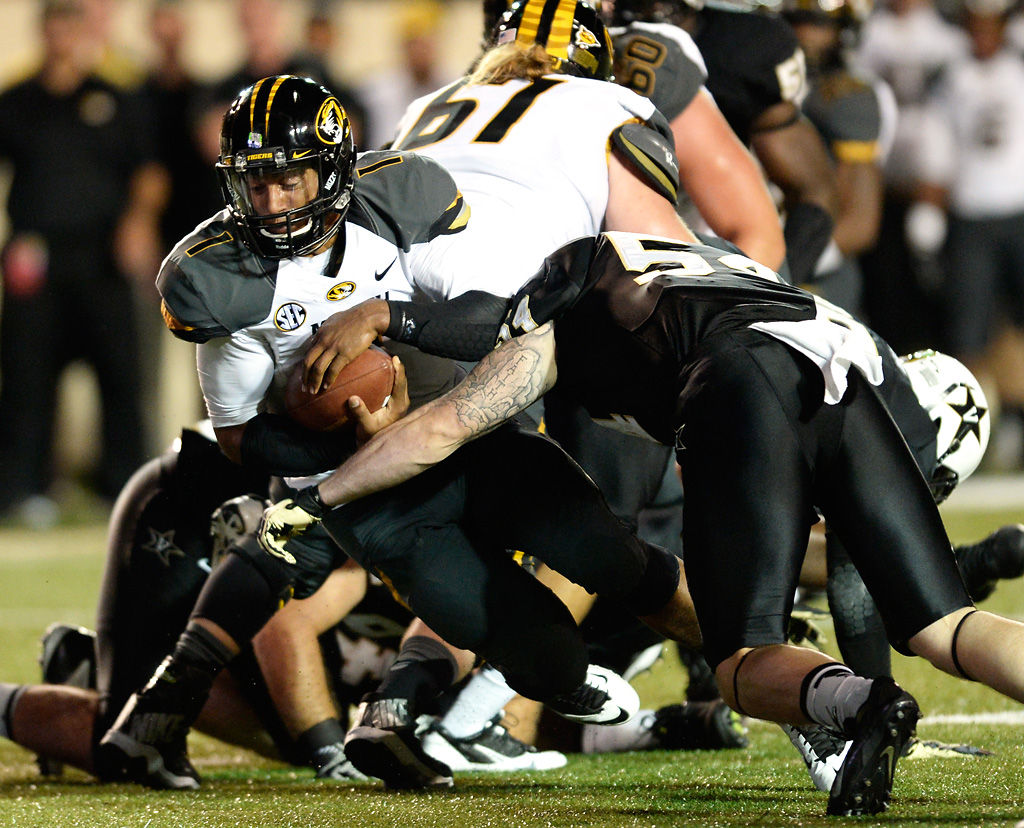 The Commodores finally got their first conference victory under head coach Derek Mason. Vanderbilt was able to pound Missouri on the ground with running back Ralph Webb, giving him the ball 26 times in the victory. While freshman Kyle Shurmur didn't even throw for over 100 yards, he was still efficient with his 10 completions and didn't turn the ball over. The Commodores travel to Houston in week nine to face a tough Cougars' team.
13. South Carolina Gamecocks
The Gamecocks were off this weekend, which came at a very convenient time on their schedule. South Carolina will try to find a way to shock Texas A&M at Kyle Field this weekend.
12. Missouri Tigers
The Tigers haven't scored a touchdown since week nine when they played South Carolina. In fact, Missouri has scored just 12 points in the past three weeks, and Gary Pinkel will try to troubleshoot his struggling offense, as the Tigers enter their bye week this weekend.
11. Kentucky Wildcats
About the only encouraging thing for the Wildcats in their 42-16 loss to Mississippi State came when they were able to break Dak Prescott's streak of not being intercepted. Otherwise, there's not much positive material to find, as Kentucky was simply blown out in Starkville. Things don't get easier for Kentucky in week nine when they host the Tennessee Volunteers.
10. Auburn Tigers
Auburn suffered by far the most heart-breaking loss of any team in the SEC this weekend, dropping a game to Arkansas where the Tigers managed to claw their way back to send the game into overtime. True freshman Sean White is the silver lining for the Tigers, and his stat line on Saturday doesn't reflect how well he actually threw the football. Auburn's wide receivers had a difficult time pulling in well-thrown balls, and that ultimately doomed the Tigers.
9. Arkansas Razorbacks
Speaking of Arkansas, the Razorbacks were able to fight through a determined Auburn team that came back from a decent deficit. After a week off, running back Alex Collins was able to get back on track and rushed for over 100 yards on 25 carries with a touchdown. The Razorbacks will try to even their record up against Tennessee-Martin this weekend.
8. Mississippi State Bulldogs
The Bulldogs put quarterback Dak Prescott on display Saturday, as Prescott threw for almost 350 yards and rushed for another 117. He accounted for six scores by throwing three and rushing for three. Mississippi State has to be feeling pretty good about themselves going to into their bye week this weekend.
7. Georgia Bulldogs
Georgia was off this weekend before a big rivalry game in Jacksonville against the Florida Gators. This game could easily serve as the de facto SEC East Championship. Mark Richt is hoping to utilize depth to create explosive plays after the loss of Nick Chubb, and we'll see how this re-tooled Georgia offense will look against the Gators on Saturday.
6. Texas A&M Aggies
The Aggies have been thumped by two very good teams in consecutive weeks. Kevin Sumlin's team gets a good chance to bounce back against a South Carolina that's struggled throughout the 2015 season. If Texas A&M can play the Gamecocks like they did in 2014, they should be alright on Saturday.
5. Tennessee Volunteers
The Vols played their hearts out in Tuscaloosa last Saturday, but as we all know, sometimes that's just not good enough against a superior team. Tennessee is a better team than their 3-4 record shows, and we'll be able to see that after they travel to Kentucky this weekend.
4. Ole Miss Rebels
After a shocking upset last week at the hands of Memphis, the Rebels really showed some resiliency playing against Texas A&M in week eight. Despite three interceptions, Chad Kelly was able to manage the game and put the Ole Miss offense in position to put points on the board. The game ball, however, goes to the Rebels' defense that only allowed an explosive Texas A&M offense to produce just 192 yards of total offense.
3. Florida Gators
The Gators control their own destiny in the SEC East standings, and Saturday will be the Gators' biggest game of the season up to this point. Florida will need to pull out a victory against Georgia to avoid a tie for first-place in the East standings. It will be interesting to see how well Treon Harris will be able to lead the Florida offense in the absence of Will Grier to suspension.
2. Alabama Crimson Tide
The Crimson Tide's loss to Ole Miss might've been the best thing for Alabama to experience early in the season. Since the loss to the Rebels, Alabama has been one of the hottest teams in the country, rattling off five straight wins. The Tide played a good Tennessee team that was desparate for a conference win and were able to take the Vols' toughest shot. The Crimson Tide are off this week before the game of the year against LSU in week 10.
1. LSU Tigers
LSU handled business as usual against Western Kentucky in week eight, and Leonard Fournette only strengthened his case to travel to New York as a finalist for the Heisman Trophy at the end of the season. Fournette has now rushed for 150 yards or more in seven-straight games this season, and he'll be able to get some rest before the Tigers' showdown with Alabama next week, as the Tigers enter their bye week.
As always, thanks for reading! Be sure to follow me on Twitter @griffaldo.
Back to the SEC Newsfeed
Related Topics: Missouri Tigers Football, Vanderbilt Commodores Football, Georgia Bulldogs Football, LSU Tigers Football, Florida Gators Football, Alabama Crimson Tide Football, Arkansas Razorbacks Football, Auburn Tigers Football, Tennessee Volunteers Football, Texas A&M Aggies Football, Kentucky Wildcats football, Mississippi Rebels Football, Mississippi State Bulldogs Football, SEC Power Rankings, South Carolina Gamecocks Football, SEC Football