The SEC is formulating to be one of the most interesting conferences in all of the FBS in 2015. The SEC East is wide-open, as each team faces serious questions coming into this season. Meanwhile, the West is stacked with elite teams that will create incredible matchups throughout the year. Mixing the two divisions, here are my power rankings for the SEC going into the 2015 season:
14. Vanderbilt Commodores
The honeymoon period after the hiring of Head Coach Derek Mason was a short one, especially after Vandy dropped all eight of their conference games in 2014. Mason will be searching to improve the Commodores' winning total in 2015, and Vandy will have to find success through sophomore running back Ralph Webb. Vandy's situation wasn't helped when their best passer from 2014, Patton Robinette, decided to quit playing football due to medical risk. Mason has yet to name a starter for week one against Western Kentucky and has shuffled between three different quarterbacks throughout the Commodores' summer practices. Even though it's only Mason's second year, Vandy will need to improve on their 3-9 record from last season for Mason to avoid the hot seat.
13. Florida Gators
The Gators cut ties with former Head Coach Will Muschamp after a disappointing 2014, hiring ex-Colorado State Head Coach Jim McElwain to try to rejuvenate the former powerhouse that's become dormant. Muschamp leaves a defense, led by first-round talent Vernon Hargreaves III, that will keep the Gators around in most of their games. I rank the Gators this low because I don't see the Florida Offense being incredibly effective after returning just one offensive lineman from the 2014 season. Florida also has some serious questions to answer at quarterback, and it will be interesting to see how well the Gators can execute Jim McElwain's scheme in year one.
12. Kentucky Wildcats
The Wildcats got off to an extremely fast start in 2014, winning five of their six opening games. Unfortunately that fast start turned into a downhill slope where Kentucky lost their final six games, preventing their selection to a bowl game. Mark Stoops' Wildcats return quarterback Patrick Towles, who's instrumental to the execution of Kentucky's offensive gameplan. The Wildcats lost their best defensive player from 2014, Bud Dupree, to the NFL Draft. Kentucky has a tough road, and it's virtually impossible for them to make it to Atlanta to play in the conference championship game. That being said, there's still plenty of room for the Wildcats to shock some teams and shatter championship dreams.
11. Arkansas Razorbacks
Many experts foresee the Razorbacks to be a contender in the West, and some even believe that they will get to Atlana. I'm not one of those experts, and Bret Bielema's team has a much tougher road than people think. The Hogs do bring two 1,100-yard rushers back this season, but they face a tough 2015 schedule that includes road games at Alabama, Ole Miss, LSU and Tennessee. Arkansas also takes on Texas A&M in Arlington, Texas again this season in week four.
10. South Carolina Gamecocks
The Gamecocks were the favorite in the East going into the 2014 season. That thought ended quickly after they were embarassed 52-28 by Texas A&M on the season's opening night. The Gamecocks went on to blow THREE multiple touchdown leads during the fourth quarter against Kentucky, Tennessee and Missouri. The defensive meltdowns led to a lot of talk regarding the end of the Steve Spurrier Era at South Carolina. The Gamecocks won the Independence Bowl against the Miami Hurricanes, finishing at 7-6 for the season. Spurrier hired his former colleague while he was at Florida, Jon Hoke, to help Lorenzo Ward tighten up a struggling defense. The Gamecocks face some serious questions at quarterback going into the season, but the "HBC" has been oddly positive this offseason. There's no telling what kind of tricks he'll have up his sleeve.
9. Texas A&M Aggies
The Aggies created a huge bandwagon in 2014 after winning their first five and posting video game numbers on offense. After those first five weeks, Kevin Sumlin's squad dropped five of their last seven games. Most of the Aggies' troubles came on the defensive side of the ball, and Kevin Sumlin addressed this in the offseason by hiring an extremely successful defensive coordinator in John Chavis. Coach Chavis inherits a young, but talented defense that saw a lot of experience last season. Texas A&M brings back eight starters on both offense and defense, including highly-recruited quarterback Kyle Allen, who replaced Kenny Hill as the starter last season. The Aggies go on the road against Arkansas, Ole Miss and LSU in the SEC West this season. Texas A&M, like a lot of the teams from the SEC, bring a lot of intrigue to the SEC West race because the Aggies are a team that possesses a lot of talented players on both sides of the ball. The Aggies will have to battle week-in and week-out if that talent will get them to Atlanta.
8. Missouri Tigers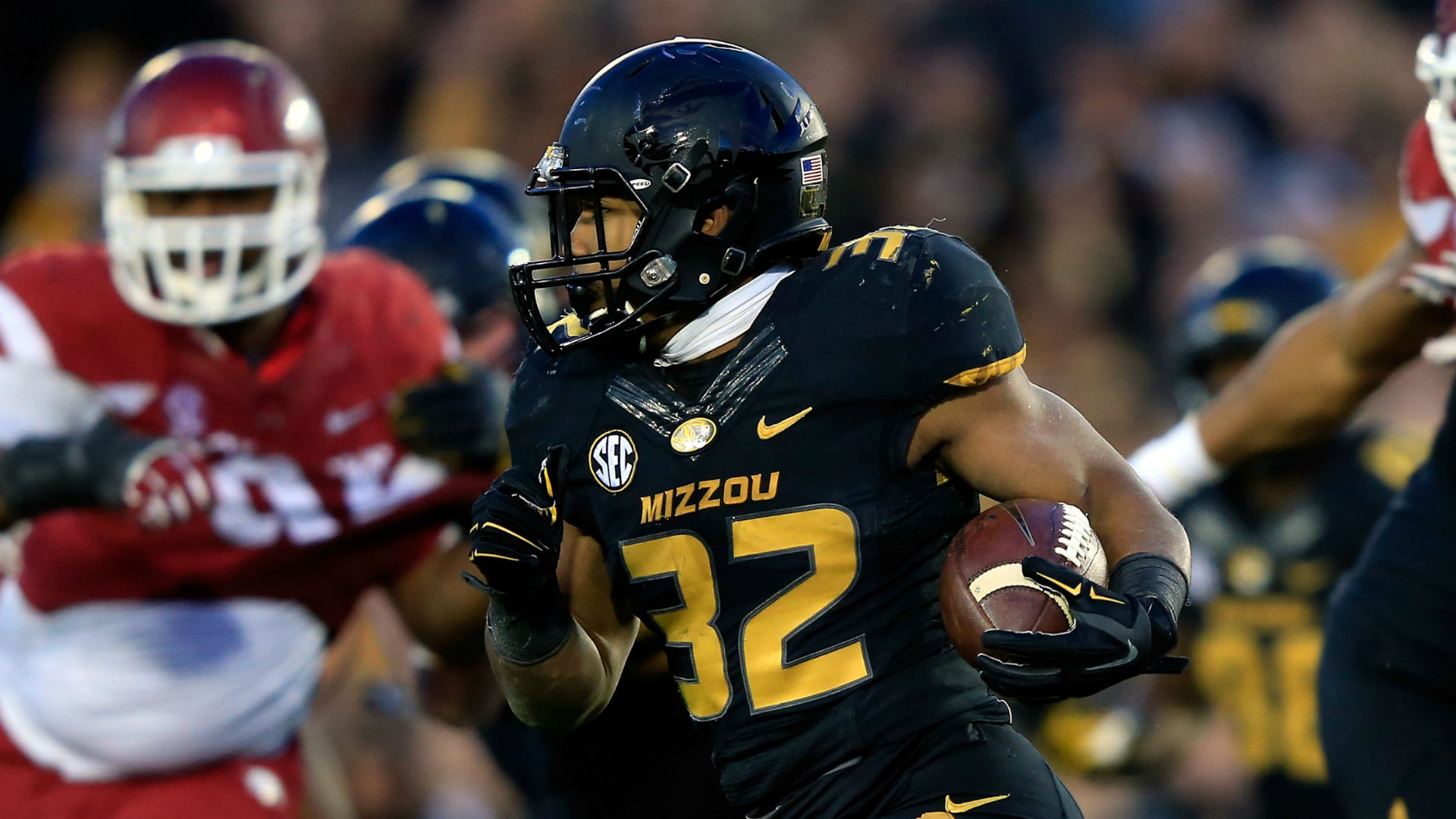 The Tigers took their second-consecutive trip to Atlanta last season, and like everybody did in 2013, Missouri was simply overlooked in the SEC East. Gary Pinkel's team has won 10 or more games in three of the last five season, and the Tigers have gone to the SEC Championship two of the three years that they've been a member of the conference. This season Mizzou brings six players back on offense, which will be led by junior quarterback Maty Mauk and senior running back Russell Hansbrough. The Tigers also bring back six returning starters on defense, and they're going to have a tough time winning 11 games this season. This being said, I've doubted the Tigers before, and they've certainly proven me wrong.
7. Mississippi State Bulldogs
Dan Mullen's Mississippi State team took a huge step in the right direction during the 2014 season, reaching all the way to the number one spot before dropping two of their last three conference games. The Bulldogs finished with a successful 10-3 but finished the season bittersweet with a 49-34 loss to Georgia Tech in the Orange Bowl. Dan Mullen's staff will have to choose wisely to fill the void left from last year's departing starters, as the Bulldogs only return four starters on offense and just three starters on defense. One of those offensive starters, however, is Heisman Trophy candidate Dak Prescott, who finished with over 3,000 yards passing and was just shy of 1,000 yards rushing. Mississippi State faces a tough road schedule, traveling to Auburn, Texas A&M, Missouri and Arkansas. A lot of question marks face this team, but the Bulldogs will have the veteran leadership of Prescott on offense to help fill the gap. Improvement from the 2014 season will be a tall order, but if Dan Mullen can fill the gaps, Mississippi State will be a hard team to beat.
6. Ole Miss Rebels
Like their in-state rival in Starkville, the Rebels started 2014 with a bang. Ole Miss won their first seven games, including a huge victory over Alabama. Hugh Freeze's Rebels looked destined to make the playoff, but they dropped a heartbreaker in front of 100,000-plus fans in Baton Rouge 7-10. The following week, star receiver Laquon Treadwell caught a pass that would've been the go-ahead score against Auburn, but instead broke his leg and fumbled the football that was recovered by Auburn to seal the victory. The Rebels replace departed senior Bo Wallace with junior college transfer Chad Kelly, who previously played at Clemson. Ole Miss starts SEC West play in week three when they travel to Tuscaloosa to take on Alabama, and that's when we'll first be able to guage how successful the Rebels will be in 2015.
5. Tennessee Volunteers
The Vols enter the 2015 season as one of the favorites to win the SEC East. This team was extremely young last season, and third-year head coach Butch Jones had to start at least three freshmen in each game in 2014. Tennessee ended 2014 with a 7-6 record, which is the first winning season the Vols have had in five years. Tennessee returns plenty of starters on offense, one of them being junior quarterback Josh Dobbs, who led the Vols to four victories in the their last five games of 2014. Jones' has led the Vols to improvement in each of his three seasons at Tennessee, but can he take the Vols all the way to Atlanta in 2015?
4. LSU Tigers
The Tigers finished 2014 with an 8-5 record, which would be considered successful throughout most programs in the FBS. In Baton Rouge, however, an 8-5 season under eleventh-year head coach Les Miles is a down year. 2014 was the first time in five seasons that LSU has finished under 10 wins in a season. The "Bayou Bengals" look to rebound in 2015, and they'll lean heavily on the legs of sophomore running back Leonard Fournette. Fournette proved to be one of the best running backs in the country, despite being just a freshman in 2014. He finished his freshman season with 1,034 yards rushing and 10 touchdowns and averaged over five yards per carry. The Tigers return nine starters on offense and six on defense in addition to a talented recruiting class. A lot of experts have LSU written off as a contender in 2015, but Les Miles' team has the talent to make some noise in the SEC West. 
3. Georgia Bulldogs
Mark Richt enters season number 15 as Georgia's head coach, and the Bulldogs are my personal favorite to win the SEC East in 2015. While Richt has yet to name a starting quarterback, the Bulldogs bring a brutal rushing attack to the table in 2015. Sophomore Nick Chubb will be the featured running back for Georgia, but the Bulldogs don't lack depth with Sony Michel and Keith Marshall rotating carries. Chubb was phenomenal for Georgia in 2014, filling in for Todd Gurley during his injuries and suspension. The Bulldogs draw a tough schedule of SEC West opponents, hosting Alabama and traveling to Auburn for their final conference game. Georgia brings back four of five starters from their 2014 offensive line, and the Bulldogs will be a difficult task for any opposing defense they face in 2015.
2. Alabama Crimson Tide
Nick Saban's team has managed to win 10 or more games in each of the past five seasons. In 2014, the Crimson Tide was defeated in the first round of the College Football Playoff by the eventual champions, Ohio State. Alabama will have to fill the void on offense from the departures from 2014, as they only return three starters from the offensive side. This year's team will have to find replacements for their three most dynamic offensive weapons: Blake Sims, Amari Cooper and T.J. Yeldon. The Tide have yet to name a starting quarterback and will have to gain experience quick as they face Georgia, Texas A&M, Mississippi State and Auburn all on the road this season. Alabama has no lack of talent, but I'm putting them in the second spot because they have a lot of missing weapons from their playoff run last season.
1. Auburn Tigers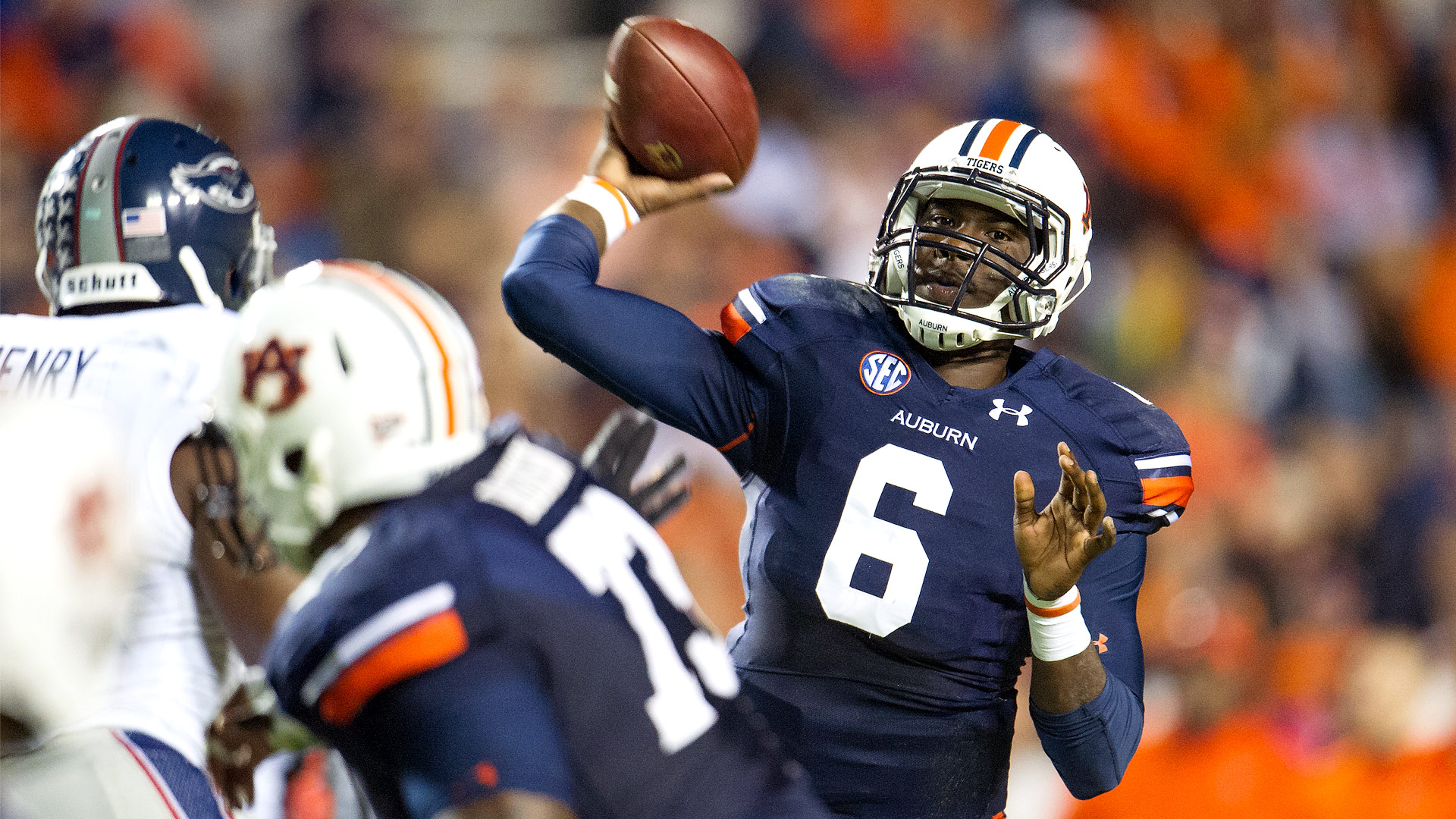 Auburn edges Alabama in my pre-season rankings because the Tigers have a better shot at running their SEC schedule than the Tide. Auburn travels to LSU, Arkansas and Texas A&M for their conference road games. Gus Malzahn's team only returns four starters on offense but brings back a lot of experience with eight returning starters on defense. Junior quarterback Jeremy Johnson replaces Nick Marshall at quarterback in 2015, and he's already drawn comparisons from writers to Cam Newton. Malzahn also adds ex-Florida head caoch Will Muschamp as defensive coordinator, and Muschamp will make a defense that saw some rough games in 2014 very stable. I look for the Tigers to improve on their 8-5 2014 record.
As always, thanks for reading. Be sure to check back each week as I update the SEC Power Rankings. To check for my updated work, follow me on Twitter @griffaldo.
Back to the SEC Newsfeed
Related Topics: SEC Football, Auburn Tigers, Texas A&M Football, Georgia Bulldogs, LSU Football, Tennessee Vols, Alabama Football