The running back position as been largely devalued in football over the past few years as the "running back by committee" approach has become more and more popular, but there are several backs in the SEC capable of carrying a team by themselves. Here are the top five running backs in the conference for the 2016 season:
5) Jovon Robinson, Auburn Tigers
Robinson showed potential at the end of last season, picking up at least 90 yards in all but one of Auburn's final six games last year. A former highly-ranked JUCO recruit, Robinson could be in a for a massive season if he gets the bulk of the carries. While he's not the speedster that Roc Thomas is, Robinson is a feature back. If the Tigers find steady QB play, that could bode well for Robinson. 
4) Bo Scarbrough, Alabama Crimson Tide
Obviously, no one can replicate the sheer dominance Henry exhibited last year on his way to winning the Heisman trophy, but Scarbrough is ready to step into the starting role and make a big impact. He missed most of his freshman season with a knee injury, yet his combination of speed and power at 6'2" and 240 lbs. give him all the makings of a future star. His job will also be made easier as Alabama will have one of the best of offensive lines in the country (again). Don't be surprised when Scarbrough becomes a household name this fall.
3) Jalen Hurd, Tennessee Volunteers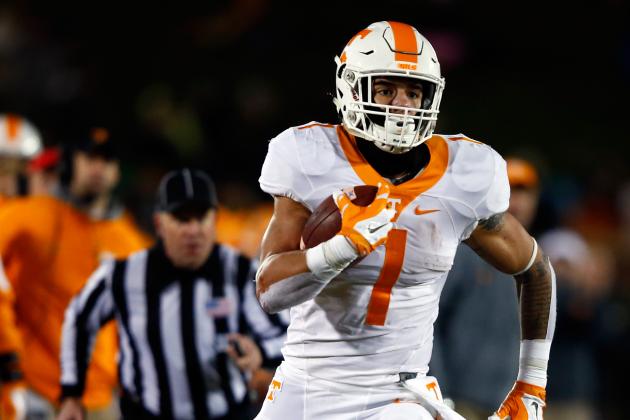 Hurd could very well find his way to the top of this list by the end of the season. An extremely powerful back at 6'4" and 240 lbs, Hurd is extremely tough to bring down - but that doesn't mean he's strictly a power runner. Hurd has demonstrated good speed and exceptional quickness that allowed him to rush for 1,288 yards and 12 touchdowns last season.
2) Nick Chubb, Georgia Bulldogs
Remember Chubb? He was right in the mix with Leonard Fournette and Derrick Henry as the best back in the SEC last season before a knee injury cut his year short, but he'll be back better than ever in 2016. Chubb has racked up 2,294 yards and 21 on just 311 carries (7.4 YPC) in this collegiate career, and tied Herschel Walker's record for most consecutive games with 100 or more rushing yards in school history. Expect him to be just as dominant this season.
1) Leonard Fournette, LSU Tigers Without Derrick Henry in Tuscaloosa, Leonard Fournette will once again assume the mantle as the SEC's premier back. He rushed for 150 yards or more in eight of LSU's 11 games this year, breaking LSU's single-season rushing mark in the process. Don't count LSU's three-game losing streak against him. He's Heisman level through and through.
Back to the SEC Newsfeed
Related Topics: Nick Chubb, Georgia Bulldogs Football, LSU Tigers Football, NCAA Football, Alabama Crimson Tide Football, Auburn Tigers Football, Leonard Fournette, Tennessee Volunteers Football, Jalen Hurd, Bo Scarbrough, Jovon Robinson, SEC Football