The SEC didn't have a team in the national championship game for the first time in nine years last season, but many still consider them to be the best conference in the country. Here are the best players that will try and lead their teams - and the conference - back to the top of the mountain:
Garrett broke the SEC freshman sack record previously held by Jadeveon Clowney this past season, and whenever you can break a record held by someone who went #1 in the NFL Draft, you're really, really good. He is the most feared pass rusher in the league and new Aggies defensive coordinator John Chavis certainly will find creative ways to use Garrett, who's speed and athleticism make him a nightmare.
4) CB Vernon Hargreaves III - Florida Gators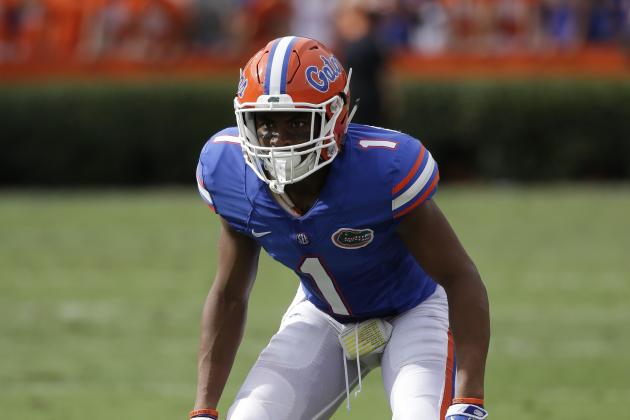 Hargreaves is one of the best cover corners in the country, and he's also good enough to make an impact stopping the run. He had 13 pass break-ups for the Gators as a sophomore and should be dominant again as a junior in 2015. Hargreaves would be a first-round draft pick if he was eligible this year, and ultimately will be whenever he declares.
3) RB Leonard Fournette - LSU Tigers Fournette got Heisman hype before he even stepped on campus in Baton Rouge this fall, and while he didn't quite reach that level as a freshman, he was still one of the best backs in the SEC. He'll be more heavily featured this year, and will become the focal point of LSU's power running offense.
Chubb was absolutely dynamite once he saw the field after All-American Todd Gurley's suspension. In fact, he was so good that he got the starting nod over Gurley once Gurley got back. Chubb will be the full-time, featured back for the Bulldogs this year, and he's going to get a very heavy workload as Georgia tries to break in a new quarterback. The opportunities will be there, and if he can produce like he did last year, he'll be a finalist in New York.
Prescott was the Heisman favorite halfway through the season after he carried Mississippi State to the No. 1 ranking in the country, but his case fell apart late in the year when teams figured out that he isn't the most accurate passer. His bruising and productive running style will keep him in the Heisman hunt for most of the year, but if he can improve as a passer this season, he'll definitely help his case.
Follow our SEC page for all the latest SEC football news and rumors!
Back to the SEC Newsfeed
Related Topics: SEC, College Football, SEC Football, NCAA Football