Let's be real -- no SEC coach is currently sitting on an office seat engulfed in flames, at least not yet. Therefore, this next list is purely speculative and based on what could happen instead of the what has happened. Here's our list of 4 SEC Football Coaches Who Could Be On The Hot Seat In 2015.
This one may be a shocker, but consider this -- Auburn's backslide at the end of 2014 will become much more glaring if Auburn underachieves in 2015. The Tigers are one of the in vogue picks to win the SEC West this year and make a legit run at the College Football Playoff. If Auburn stumbles out of the gate and takes themselves out of the CFP conversation, Malzahn's seat could go from barely warm to uncomfortably hot within the span of a season.
The Will Muschamp era?
It'd likely take a crappy 2015 and an egg laid in 2016, but...
The wheels fell off of Texas A&M's 2014 season after a statement victory over South Carolina early on. The Aggies' 7-5 finish was mostly attributed to a ineffective, porous defense that wouldn't have been able to stop a junior varsity prep squad at its worst. New defensive coordinator John Chavis has been brought in to right the ship, but what happens if he can't? What happens if Kyle Allen was the wrong choice to take over as A&M's starting QB? Could Sumlin and the Aggies be headed for a mutual contact dissolution that sees the head coach off to the NFL? Are we overthinking things?
Maybe. But, another mediocre season for Sumlin in College Station will fuel speculation at least.
Kentucky felt fit to extend Stoops' contract during the team's 5-1 start last season. The Wildcats promptly lost their last six from there, flushing their 2014 season down the proverbial toilet bowl. Stoops has done wonders to change the culture in Lexington, but another long losing streak in 2015 may lead to a "what have you done for me lately?" conversation between Stoops and the suddenly football-focused UK athletic department.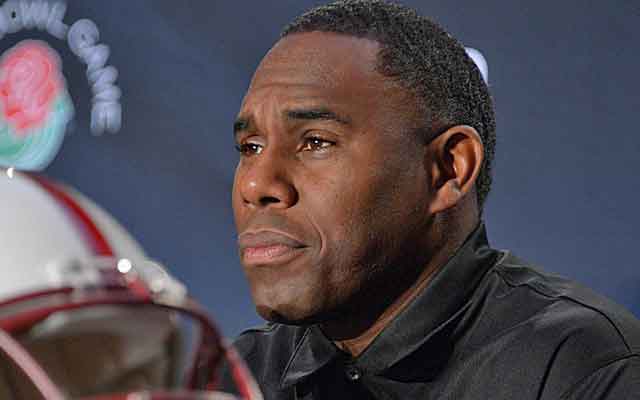 Mason's first year in Nashville was a dumpster fire. Vandy went 3-9 thanks to a messy quarterback situation and numerous reported instances of internal friction between Mason and his coaching staff underlings. Mason engineered a staff overhaul this offseason, including firing former UCLA head coach Karl Dorrell from his post as offensive coordinator after just one season. If Mason's radical rethink ends in another bottom-feeding season, he could be the next to be quickly dismissed from his post.
Follow our SEC Football page for more conference coverage!
Back to the SEC Newsfeed
Related Topics: SEC Football, Texas A&M Football, Derek Mason, Mark Stoops, Kevin Sumlin, Vanderbilt Commodores, Kentucky Football, Gus Malzahn, Auburn Football