We're all guilty of being homers for our favorite teams, but these fan bases are the cream of the proverbial crop when it comes to putting blinders on and swimming around in an ocean of delusion. Having faith is one thing, but blind faith can turn sports fandom into an unhealthy obsession of monster-sized proportions. With that in mind, here are the 3 most delusional college football fan bases in the SEC:
3) Tennessee Volunteers
Tennessee is up there with Georgia and Florida as traditional SEC East powers, but their fan base is often way too optimistic about their chances each year. College Spun even ranked the Vols as the third most delusional fan base in the entire country:
"(Butch) Jones has done a lot to prove that he is the man for this long Tennessee rebuild, and 2015 may be the year that the Vols put it all together. It is a bit of a stretch to pencil them in ahead of Mizzou or Georgia yet, and the SEC is such a grind that there's a good chance that substantial improvement doesn't really bear out in wins and losses. Excitement is fine, but UT still has a way to go."
Considering that the Vols have won just one national title since 1967 and haven't won a SEC championship since 1998, it's easy to see why opposing fans can get fed up with Tennessee's lofty expectations.
2) Alabama Crimson Tide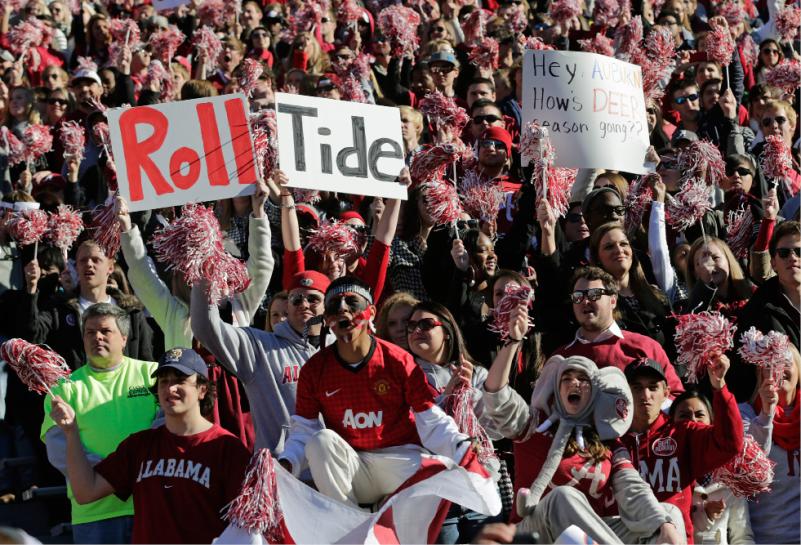 Crimson Tide fans take the whole "championship or bust" motif and run with it like a four-year-old on a candy high. When Alabama's at the top of the college football world as it has been lately, Tide fans are more content than they are impressed. However, if/when they start losing, heaven hath no fury like an Alabama fan bases scorned.
1) Georgia Bulldogs
Georgia fans have a reputation for having some...high expectations about their football team, though it's hard to necessary blame them after the maintained success they've had throughout the program's history. However, this has more to do with multiple reports of the way their fans mistreat opposing fans. 
One fan wrote an open letter detailing his awful experience on Reddit:
"The experience we (my group of friends) had in Athens this weekend was – in a word – awful. Not because of the game, but because of the way we were treated. I am asking UGA fans to remedy this as best they can in future games."
The comments on the Reddit thread were just as damning:
"I wrote an open letter to our fanbase in in 2008 after the Bama blackout. I was completely appalled at our fans reactions. They were throwing glass liquor bottles from the upper student section INTO the lower student section. A girl got hit in the head and had to be taken to the hospital. Don't get me wrong, I love Athens and I love Gamedays, but some fans need to go back to their trailers and natty light and just watch the game at home. Even other UGA fans get annoyed by them."
Back to the SEC Newsfeed
Related Topics: Tennessee Volunteers Football, SEC News, Georgia Bulldogs Football, Alabama Crimson Tide Football