The SEC is full of more talent than any other conference in the country, so it comes as no surprise that several of the top players that are projected to be in the 2019 NFL Draft are from the conference. Going into the 2018 season it's clear who the very best players and top draft prospects in the best conference are, and these players are expected dictate the way the conference plays out next season. Here are the top 10 prospects from the SEC for the 2019 draft:
10) Josh Allen, EDGE, Kentucky
Allen was a second-team All-SEC performer who nearly entered the 2018 draft before opting to return to school to increase his draft stock, which will happen if he improves on his numbers (seven sacks, 9.5 TFL) from last season. He has all of the physical tools, but can he consistently produce at a high level?
9) Raekwon Davis, DT, Alabama
Davis is an athletic freak with the rare size, strength, and speed combination that make him an ideal defensive lineman prospect for NFL teams. He led the Crimson Tide in sacks last season but consistency is an issue with him. Still, he has the talent to be a top-10 pick with a great season.
8) Jarrett Stidham, QB, Auburn
Stidham has upside thanks to his arm talent and athleticism, but he has to be better in key games. He'll be asked to do more this year and if he thrives, he could be in the mix for the Heisman and #1 overall pick.
7) Devin White, LB, LSU
White is a converted running back who really flourished for the Tigers last season with 133 tackles and set the SEC record for most SEC Defensive Player of the Week awards in a single season (four times). He's looking like a sure-fire first-round pick.
6) Jeffery Simmons, DT, Mississippi State
Simmons routinely ate up double teams along the defensive line as a sophomore in 2017 and is someone NFL scouts have high on their radar. The first-team All-SEC performer recorded 60 tackles, five sacks, 12 tackles for a loss, and - most impressively - three blocks last season.
Are you the ultimate College Football fan? You can now listen to Chat Sports' College Football Podcast on iTunes and Google Play!
5) Greg Little, OT, Ole Miss
Little stepped in an immediately replaced Laremy Tunsil as Ole Miss' left tackle as a true freshman, and now the soon-to-be-junior is one of the top pass blockers in the entire country. His athleticism is off the charts for someone who is his size and has the makings of a franchise left tackle if he improves his run blocking.
4) Drew Lock, QB, Missouri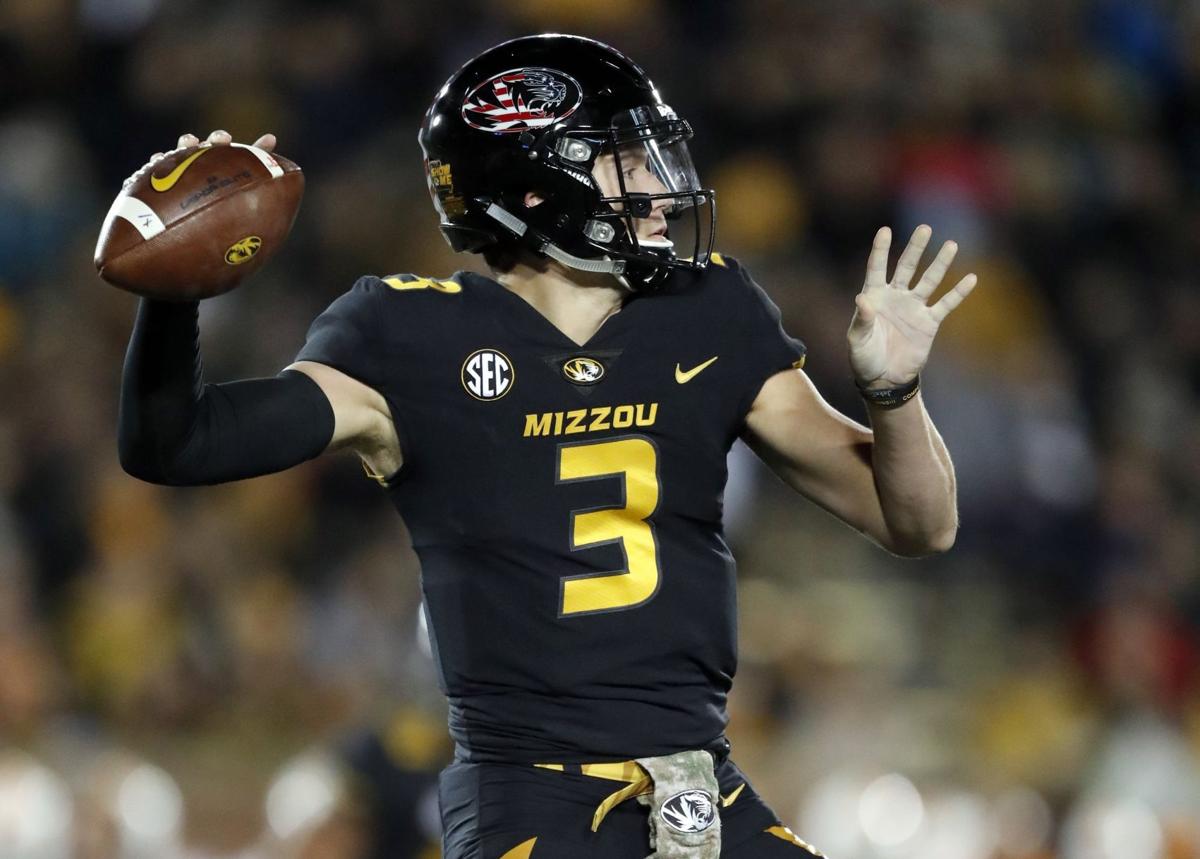 Drew Lock is considered the best pro-prospect quarterback in college football after a terrific junior season in which he threw for 3,964 yards with 44 touchdowns and 13 interceptions. Some thought he would've been a first-round pick if he entered the 2018 draft, and his big-time arm and leadership are why he will likely be a top 10 draft pick in 2019.
3) Greedy Williams, CB, LSU
Andraez "Greedy" Williams is perhaps LSU's top cornerback prospect since Patrick Peterson. He is 6-2 and weighs 183 pounds and is a physical corner - even though he needs to get stronger - with great ball skills and tremendous quickness.
2) A.J. Brown, WR, Ole Miss
Considered by many to be the top wide receiver in college football entering the 2018 season, Brown hauled in 75 balls for 1,252 yards and 11 touchdowns as a sophomore. He is a solid route runner that is well built, standing 6-1 and weighing 225 pounds, giving him the size NFL teams covet. Brown should be the top wide receiver taken.
1) Jonah Williams, OT, Alabama
The 6-5, 296-pound tackle has played both left and right tackle. He allowed only 2.5 sacks in last year as a sophomore and will be the next great lineman to come out of Alabama. He's pretty much guaranteed to be a top 10 pick.
Stick with us in the Chat Sports app or follow College Football by Chat Sports on Facebook to be the 1st to know every breaking story and all the rumors in College Football!
Back to the SEC Newsfeed
Related Topics: 2019 NFL Draft, SEC Football, NCAA Football, NFL News