The San Francisco Giants raced out to a 3-0 lead in the top of the first and never gave it back, eventually beating the Royals 7-1 to take Game 1 of the World Series in emphatic fashion.
Game 1 MVP:
Madison Bumgarner was spectacular for the Giants, silencing the Royals through 7 & 2/3 scoreless innings before a Salvador Perez home run ended the shutout. The Giants turned on the offense tonight, but they barely needed it on a night when their ace was locked in.
Stat of the Night:
21 & 2/3. That's where Bumgarner's streak of scoreless World Series innings ended - a tribute to his unprecedented success on baseball's biggest stage.
Lungs of the Night:
Generald Wilson, the retired U.S. Naval Petty Officer who belted God Bless America during the seventh-inning stretch. For the home fans, it was one of the few highlights.
Solid Gold TV Moment:
Korean Royals superfan Lee SungWoo (who followed the team's misadventures from afar for almost 20 years) kicking it with homegrown Royals superfan Paul Rudd. SungWoo wasn't a good luck charm tonight (in his first visit earlier this year, KC went 9-1 and swept the Giants 3-0), but there's plenty of time left in this one.
Best Hunter Pence Sign: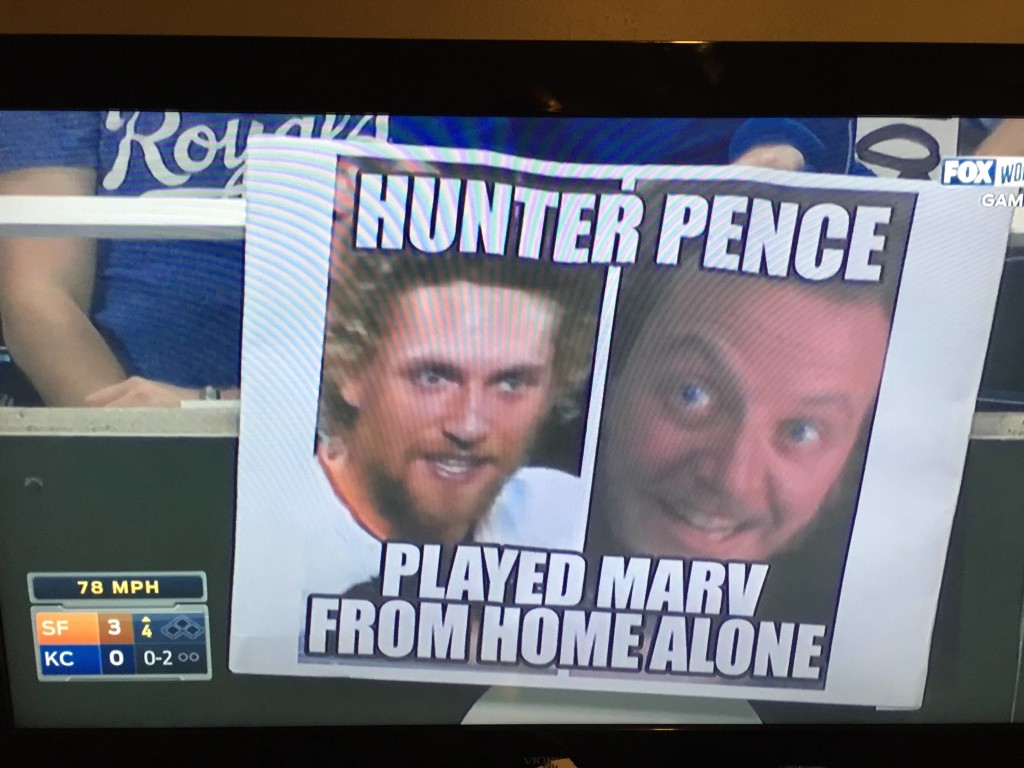 What's Next?
Game 2 (Wednesday at 8:07 PM ET in Kansas City) pits San Francisco's Jake Peavy (7-13 during the regular season, but 6-4 since being traded from Boston to San Francisco) against Kansas City's Yordano Ventura (14-10 with a 3.20 ERA on the year).
Back to the San Francisco Giants Newsfeed