The San Francisco 49ers hold the No. 7 overall pick in the first round of the NFL Draft. With the draft just one day, the main question surrounding the team is "who will the 49ers pick in the first round?" The 49ers are guaranteed to get one of their top seven players barring a trade down. With that in mind, here are the three most likely selections for the 49ers in the first round of the NFL Draft. 
3. Myles Jack, LB, UCLA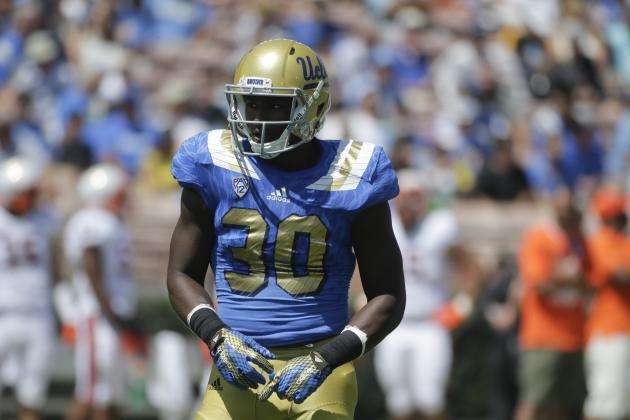 Jack would be higher on this list if not for concerns about his knee injury. He'd fill a big need for the 49ers and would be strong value. With GM Trent Baalke has shown a willingness to draft injured players in the past, that might not be the case this year. The 49ers need to win now, or at least show improvement this season. If not, Baalke could be out of a job. Jack still makes sense as a selection, but there's enough concern around him that he's not at the top of this list. 
2. Ronnie Stanley, OT, Notre Dame
The 49ers could get Anthony Davis back at RT, but he's been out of the league for a full year and has yet to apply for reinstatement after "retiring." The 49ers were awful at RT last season and Stanley could be a big upgrade, if he lasts that long. There's speculation he could be the Chargers' pick at No. 3, although that seems like a long-shot. Stanley could be the 49ers' fall back option if their preferred target is off the board. 
1. DeForest Buckner, DE, Oregon
Getting Buckner and pairing him with Arik Armstead would give the 49ers one of the best 3-4 DE combos in the NFL. Buckner would be a perfect fit for the 49ers and he'll be a great pro player. However, he might not last that long. The Chargers and Ravens could both pull the trigger on Buckner before the 49ers can take him at No. 7 overall. But if Buckner is on the board, expect him to be the pick. 
Follow our San Francisco 49ers team page for all the latest 49ers Draft Rumors, and download the Chat Sports App to be alerted the second the 49ers make their selection.
Back to the San Francisco 49ers Newsfeed
Related Topics: 49ers Draft Rumors, DeForest Buckner, 49ers NFL Draft, Ronnie Stanley, 49ers Rumors, NFL Draft Rumors, Myles Jack, NFL Draft