The San Francisco 49ers missed the playoffs last year, resulting in the firing of head coach Jim Tomsula. Chip Kelly is in town now, and he'll be tasked with helping the 49ers get back to the playoffs. Having a high draft selection should help, but the biggest perk for the 49ers is their $51 million in cap space. They're looking to upgrade a few weaknesses in free agency with all that cap space. 
This list only factors in free agents that didn't play for the 49ers last season. So while the 49ers will likely bring back NT Ian Williams, he and the other Niners free agents won't be appearing here. While getting Von Miller would be great, he's not going to hit the open market. This list focuses only on players who could actually end up in contract talks with San Francisco. With that in mind, here are five free agents the 49ers could realistically land this offseason:
OG Richie Incognito
Incognito was great this season, but the Bills might not be able to bring back the 32-year old guard. They're already over the cap for next season, and although cutting Mario Williams will save over $12 million, the Bills are tight on money. They also must find a way to retain OT Cordy Glenn, one of the best young tackles in the NFL. That means Incognito should hit the open market. While Andrew Tiller played well, Alex Boone did not and is a free agent. The 49ers can afford Incognito easily, and he'd upgrade the offensive line. 
CB Sean Smith
Smith isn't the top free agent in this year's class, but Josh Norman isn't getting out of Carolina. Smith is 6-foot-3, giving him the size the 49ers prefer in their corners. Smith will be expensive, but the 49ers have more to spare. The team lacks a true No. 1 CB, and adding Smith would give them just that. However, the Chiefs are going to everything they can to keep Smith. For more 49ers news, download the Chat Sports Android and iPhone app. 
ILB Danny Trevathan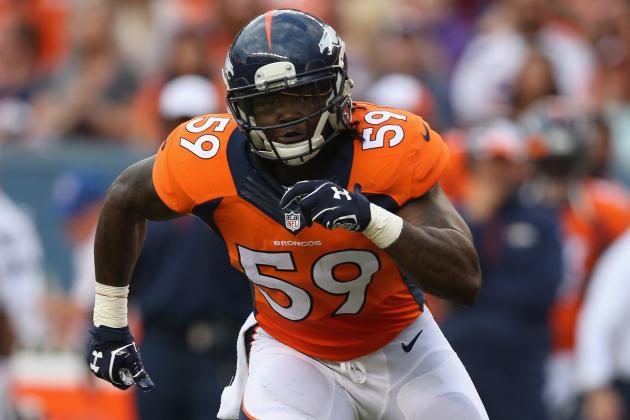 There's no doubt that the Broncos want to bring back Trevathan. At just 25, he's already one of the best inside linebackers in the NFL. But he's likely to hit the open market, with the Broncos planning to tag Von Miller. Denver will do everything they can to resign Trevathan, but he's going to attract plenty of interest. Money won't be an issue for the 49ers, and getting Trevathan would shore up the inside linebacker spot next to Navarro Bowman. 
OLB Bruce Irvin
In a down year for pass rushers, Irvin is going to get paid. His contract could top $10 million per year, which the 49ers can easily afford. Aaron Lynch is developing into a solid pass rusher, but Eli Harold doesn't seem like much more than a backup. Ahmad Brooks is rapidly declining and cutting him would save an extra $6 million. Plus, there's the added bonus of the 49ers hurting the Seahawks by taking away one of their best pass rushers in Irvin. Moving to a 3-4 defense would be perfect for Irvin. For more 49ers rumors, download the Chat Sports Android and iPhone app.
WR Marvin Jones Jones went to Cal for college, so this would be a bit of homecoming for him. It's a down year for free agents at the position, with Alshon Jeffery the only true No. 1 WR. But the Bears likely won't let him get away, leaving Jones as the next best option. He's not a true No. 1 WR, but he'd be an upgrade for the 49ers' WR corps. Torrey Smith is the deep threat, but Jones can serve as the replacement for Anquan Boldin as the possession-type WR. With plenty of free agents, the Bengals might not be able to bring back Jones. If he hits the open market, his value could be out of Cincinnati's price range. 
Back to the San Francisco 49ers Newsfeed
Related Topics: Richie Incognito, Danny Trevathan, Marvin Jones, 49ers News, 49ers Rumors, Sean Smith, Bruce Irvin, NFL Free Agency