We're uninspired.
Every time we see San Francisco 49ers head coach Jim Tomsula on the sidelines, we let out a GIANT yawn. Who is this guy? How did he end up coaching one of the most storied franchises in all of American sports? How exactly did he turn one of the most dynamic quarterbacks in all of the NFL, Colin Kaepernick, into a less bulky Jamarcus Russell?
Well, the answer is that he's the WORST NFL coach we've seen in a very long time. How bad? Here's the only 3 coaches in NFL history below him on the worst coach food chain.
Any time your boss fires you and displays part of a letter he sent you on a overhead projector -- part of which read, "I will no longer stand silently by while you continue to hurt this organization" -- you know you suck at your job. Kiffin was fired 20 games into his tenure, right after he trotted Raiders K Sebastian Janikowski out for a 76-yard field goal. Janikowski missed the kick by 25 yards and secured Kiffin's place as an NFL laughing stock. Unless Tomsula sends Kaepernick out to return punts one of these days, he won't be able to touch Kiffin on the bad coach scale.
There's a special place in NFL coaches hell for Bobby Petrino. This was the guy who informed his players of his decision to leave the Falcons for Arkansas in 2007 with a good old-fashioned handwritten letter. Petrino's move threw everyone off, including Falcons owner Arthur Blank who told reporters just hours earlier that Petrino was going to stay with the organization -- only because Petrino TOLD HIM HE WAS a few hours earlier. Petrino went just 3-10 during his time in Atlanta. 
Tomsula won't do that to his boys. He'll be fired first.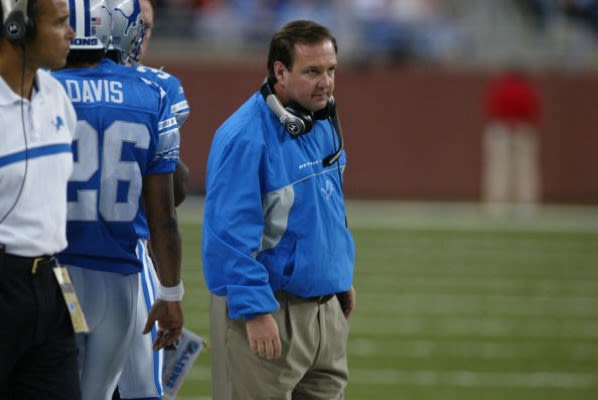 Former Lions GM Matt Millen made plenty of bone-headed decision during his tenure in Motown, but the first and worst was to hire Mornhinweg as his head coach. The only thing casual fans remember Mornhinweg by was his the time the Lions won a coin toss in overtime and decided to KICK OFF because of the wind. Yup. The Lions never saw the ball again. We could see Tomsula doing that. Although, he'd do it with more flair because he has a mustache.
Back to the San Francisco 49ers Newsfeed
Related Topics: Marty Morhinweg, Lane Kiffin, Jim Tomsula, Bobby Petrino