The San Francisco 49ers have a long list of players who had fantastic careers as a member of the 49ers franchise. A long and rich history makes it difficult to narrow a list down to just a handful of players, but here are the 8 best players in 49ers history:
Honorable Mention: Terrell Owens, WR (1996-2003)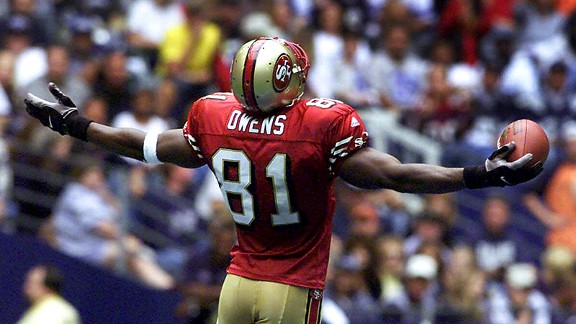 Say what you want about his antics and the terms in which he left the 49ers, but T.O. had some great years in San Francisco. He posted five 1,000 yard seasons, including back-to-back 1,400 yard seasons in 2000-01. He finished with 81 touchdowns as a 49er, placing him behind only Jerry Rice for the most touchdown receptions in team history.
8. Patrick Willis, LB (2007-'14)
Had Willis not suddenly retired this past offseason, the former Ole Miss product probably would have ended up inside the franchise's top 5 players with a few more productive seasons, but he will still go down as one of the best defensive players in team history. Willis won Defensive Rookie of the Year in 2007 and made Pro Bowls in all but one of his eight seasons in the league.
7. Joe "The Jet" Perry, RB (1948-1960)
You have to take a trip in the way back machine to get to Joe "The Jet" Perry, but he was the franchise's greatest running back until Roger Craig and Frank Gore came along. His 8,689 rushing yards as a Niner - which included 1,000 yard seasons in 1954-55 (when 1,000 yards was a much rarer feat than today) - has still only been topped by Gore some 60 years later.
6. Frank Gore, RB (2005-'14)
Another name on this list whose 49er career ended following last season, Frank Gore is the franchise leading rusher with 11,073 yards after being drafted out of Miami in 2005. Gore moves onto Indianapolis after posting 1,000 yard rushing seasons in all but two of his 10 seasons in San Francisco.
5. Roger Craig, RB (1983-1990)
One of the greatest dual-threats in 49er history, as well as NFL history, Roger Craig racked up yardage both on the ground and through the air. He finished third on the 49ers list with 7,064 rushing yards, 10th with 4,442 receiving yards and scored 66 total touchdowns.
4. Steve Young, QB (1987-1999)
It's tough to be the best quarterback in franchise history when you take over for a guy named Joe Montana, but Young's numbers would top many other franchise's passing lists. His 221 touchdowns ranked second in team history and 29,907 passing yards ranked third. He also won a Super Bowl as a starter in 1994, after backing up Montana in two 49er Super Bowl victories.
3. Ronnie Lott, DB (1981-1990)
The franchise's best defensive player, Ronnie Lott is the 49ers' leader in interceptions (51) and second in tackles to only Patrick Willis, although Lott racked up his tackles playing from the secondary. Lott made 10 Pro Bowls, nine of which came in San Francisco, and finished First-Team All-Pro six times.
2. Joe Montana, QB (1979-1992)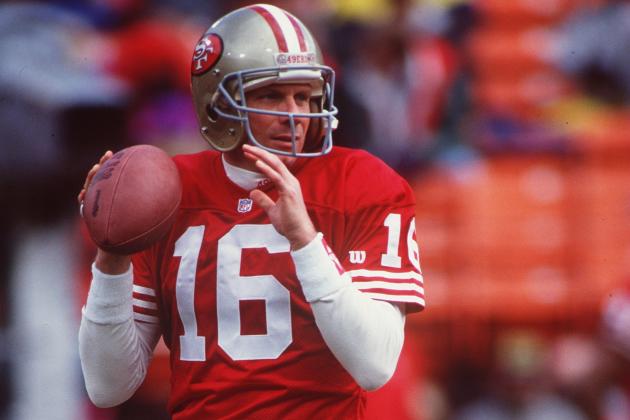 The best player in 49er history wouldn't have gotten off to the early career success he did if it weren't for Joe Montana. Montana won four Super Bowls for San Francisco, and finished as the franchise leader in touchdowns and passing yards, as well as second in total games played.
1. Jerry Rice, WR (1985-2000)
The best receiver in NFL history, Jerry Rice beats out his quarterback counterparts to top the list as the best 49er in team history. It's no surprise that he led the franchise (and the NFL) in every conceivable receiving stat, including touchdowns (176), yards (19,247) and receptions (1,281). Rice's franchise numbers in San Francisco will never be surpassed.
Follow our San Francisco 49ers team page for all the latest 49ers news and rumors!
Back to the San Francisco 49ers Newsfeed