Each year, several veterans end up cut by their teams before the start of the regular season. That will likely be the case this year for the San Francisco 49ers. With a new regime and a bunch of new players in a rebuilding year, the 49ers might make more notable cuts than any team in the NFL. 
The 49ers would likely try to trade most of these players before cutting them, but more often than not, the players are simply cut. That was the case with players like RB Mike Davis, whom San Francisco already released This list only focuses on some of the more notable players, which means we're ignoring the undrafted free agents or other players who don't quite move the needle enough. With that in mind, here are three players the 49ers could cut before the season. 
TE Blake Bell
There's a log-jam at the tight end position and Bell faces a nearly impossible road to make the roster. There have been trade rumors around Vance McDonald, but even if he's dealt, there's fourth round pick George Kittle, free agent pickup Logan Paulsen, holdover Garrett Celek and even UDFA Cole Hikutini. That's too many bodies for the underachieving Bell to beat out, barring injury. 
LB Ahmad Brooks
Brooks actually has the fourth highest cap hit on the 49ers. His future might be tied to what the 49ers do with Reuben Foster this year. Neither Foster nor Malcolm Smith are ideal fits at the SAM linebacker spot, but the Niners might elect to try to get their top three linebackers on the field every chance they get. Eli Harold can hold the backup role, meaning there's no need for Brooks. But if the Niners want to keep Foster at the MLB or WLB spot, then Brooks can still make the roster. The Niners don't need cap space, but more is more and they can save $5.3 million in cap space by cutting Brooks. 
TE Garrett Celek Much like Bell, there's the volume issue at TE for Celek. He probably makes the roster if McDonald is dealt, but if the Niners can't deal McDonald, his contract prevents a trade. That could put Celek as the odd man out if he can't beat out Paulsen, who has experience playing under Kyle Shanahan. Cutting Celek would save $1.95 million. 
WR Bruce Ellington
With just 19 career catches, the 2014 fourth round pick is another disappointing Trent Baalke Era draft pick. Unfortunately for Ellington, the Niners' offseason moves mean he might not get a fourth year in San Francisco. The 49ers brought slot WR Jeremy Kerley and drafted Trent Taylor in round five. If Taylor makes the roster (and he probably will), that means there's no room for a third slot option like Ellington. Cutting him would save $690K. 
LB Aaron Lynch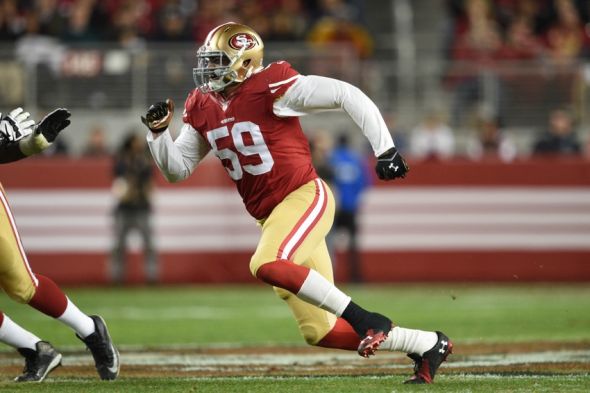 Thanks to poor play last year, suspension issues and showing up to camp 20 pounds overweight, there's already a report Aaron Lynch might get cut. Lynch has talent, but he's always battled some type of issue, both in the NFL and in college. With a new regime, Lynch had a chance to start with a clean slate. If Solomon Thomas can handle the LEO role, the 49ers will have zero reason to put up with Lynch. There's nearly $1.78 million in savings if Lynch is cut. 
Check out our San Francisco 49ers team page for all the latest 49ers Rumors or download the Chat Sports App!
Back to the San Francisco 49ers Newsfeed
Related Topics: Aaron Lynch, Ahmad Brooks, Garrett Celek, Blake Bell, 49ers News, 49ers Rumors, Bruce Ellington