The San Francisco 49ers are in the midst of a rebuild, with a whole new front office and coaching staff. The expectations aren't very high in San Francisco, but the 49ers are hoping several younger players have breakout seasons. 
Breakout seasons happen every year in the NFL. Sometimes, the player in question makes the leap from very good to superstar. Sometimes, a player goes from role player to key starter. Rookies don't count on this list either. So who will be the breakout players for the 49ers in 2017? We've put together five of the most likely candidates below.
DE Arik Armstead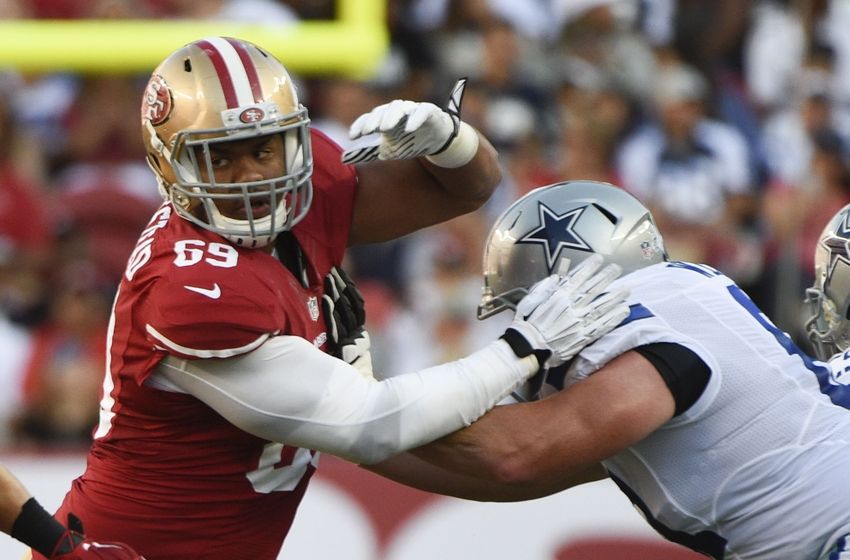 In two years, Armstead has been limited to just 4.5 sacks and 34 tackles, thanks in part to injuries. It's not quite clear where Armstead will play in the 49ers' new 4-3 scheme (DE seems likely), but hopefully he can stay healthy and capitalize on his potential. A double-digit sack year is probably asking too much, but Armstead can develop into a reliable starter this year. 
DL DeForest Buckner
Buckner outplayed Armstead last year and could be in for an even bigger year. He racked up six sacks and 73 tackles while playing a ton of snaps. The 49ers should cut down on those snaps this year, but Buckner should improve his level of play. There's a good chance he lines up as a the 3-technique (the exact Niners defensive line rotation is still unclear). Buckner might not get to 10 sacks, but he's primed for a big year in 2017.  
OG Joshua Garnett
This is the only offensive player on the list, which might not be a huge surprise given the way the roster is currently constructed. Garnett didn't begin the year as a starter, but took over by the middle of the year. The problem was, Garnett struggled. The new scheme could benefit him, but he will need to earn his starting job. If Garnett can take a step forward, he'll be a key starter.  
CB Rashard Robinson
If Jimmie Ward does move to safety (see below), Rashad Robinson might just be the No. 1 corner this year. Robinson was inconsistent in his rookie year, but saw plenty of playing time. At 6-foot-1, Robinson is a good fit in the new Seahawks-style defense. Robinson has always had talent, but off-the-field issues prevented him from showing it at LSU. Now in his second-year, Robinson has a chance to take on a big role. That won't be an easy role, but Robinson has the chance to take a big step forward. 
FS Jimmie Ward
The 49ers might move Ward to free safety this year, a critical role in the 49ers' new defense. Ward was the 49ers' best secondary player and one of their best defenders last year. He's bounced all around the secondary in his three years, with just two picks. But if he can remain at just the free safety position, Ward could have a true breakout season. He has Pro Bowl-level ability. 
Check out our San Francisco 49ers team page for all the latest 49ers Rumors or download the Chat Sports App!
Back to the San Francisco 49ers Newsfeed
Related Topics: Joshua Garnett, Arik Armstead, DeForest Buckner, Jimmie Ward, Rashard Robinson, 49ers News, 49ers Rumors