The NFL Draft is approaching quickly. The national attention is starting to turn away from free agency and towards the Draft since free agency is wrapping up and the draft is just over a month away. We've already put together a full first round mock draft, and now we have a three round mock just for the San Francisco 49ers. 
The 49ers are coming off an awful season and have needs at multiple positions. Despite the presence of two former starting QBs on the roster, quarterback is a major question mark. With that in mind, here is the 49ers' 3 Round 2016 NFL Mock Draft. 
Round 1, Pick No. 7: Myles Jack, LB, UCLA
Adding a QB is an option, but if Jared Goff and Carson Wentz are gone, the 49ers won't reach for Paxton Lynch. That seems like a likely outcome with the Rams moving up in the NFL Draft. The 49ers could instead address some defensive shortcomings instead. Jack is a freak athlete and would be a perfect fit in the 49ers 3-4 scheme. If Jack and the QBs are off the board, the 49ers could try to move down as well. The 49ers have proven that they are willing to take players coming off injury, although Jack's knee should be recovered to the point that he can start the season as a starter. 
Round 2, Pick No. 37: Connor Cook, QB, Michigan State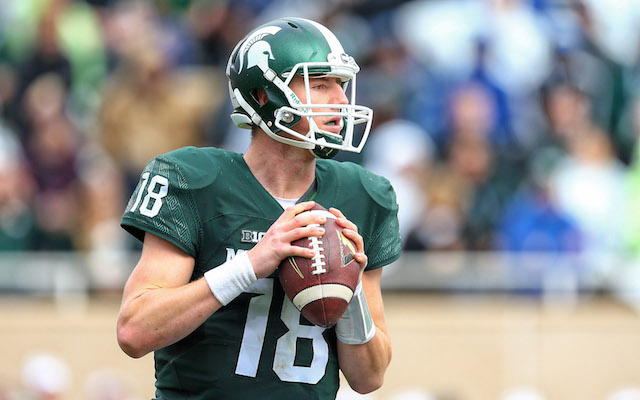 With Goff not a likely option, the 49ers could take Connor Cook in Round Two. The team has shown plenty of interest in him and he should be on the board in Round Two. He's not as mobile as Chip Kelly's QBs at Oregon, but he has the quick decision-making abilities that Kelly's offense needs. If the 49ers take Cook, they would likely deal Colin Kaepernick to the Broncos. 
Round 3, Pick No. 68: Joshua Garnett, OG, Stanford
The 49ers and Chip Kelly love Garnett, and he fills a need. He's a mauler in the running game, and will be great opening up holes. However, there are concerns about his ability in the passing game and he'll need work in that area. There's a decent chance he's off the board before the 49ers can take him. Download the Chat Sports app for all the latest 49ers Draft coverage you need!
Back to the San Francisco 49ers Newsfeed
Related Topics: 49ers Mock Draft, Joshua Garnett, 49ers Draft Rumors, Connor Cook, NFL Draft Rumors, 49ers Rumors, Myles Jack, 2016 NFL Draft