The San Francisco 49ers have fired both head coach Chip Kelly and general manager Trent Baalke. The move comes after a terrible year, in which the 49ers struggled on both sides of the ball. The firing Baalke wasn't a major surprise (and you can see a few of the top replacements for Baalke here), but the dismissal of Kelly comes as a bit of a surprise. He was in a terrible position, coaching a team devoid of talent. 
Regardless, the 49ers will be looking for a new coach. They are some concerns about how the 49ers could even lure, given the poor situation the team is in, but a NFL head coaching job is an NFL head coaching job.
We're trying to focus on the realistic candidates, which is why the usual, but not happening names (Jim Harbaugh, Jon Gruden and David Shaw) aren't listed. Of course, the 49ers' hire of a head coach could be heavily impacted by the team's decision at GM (or vice-versa). With that in mind, here are the top 10 candidates the 49ers could hire as their new head coach. 
10. Mike Smith, Buccaneers defensive coordinator
Smith was run out of Atlanta after the team with 10-22 in the last two years of his tenure with the Falcons, but did post a 67-50 record during his tenure in Atlanta. He's done a very good job in Tampa Bay as the DC and could end up getting another shot as a head coach.
9. Jim Bob Cooter, Lions offensive coordinator
Cooter has done an incredible job leading Detroit's offense for the past year and a half, guiding Matthew Stafford & Co to a potential playoff berth. At just 32 years old, Cooter could bring some needed life to the franchise. He might not get a job this offseason, but he should get some interviews. 
8. Dave Toub, Chiefs special teams coach 
Special teams coaches don't get a lot of love, but Toub is the best in the NFL right now. He's had head coaching interviews in the past and he could take the John Harbaugh path of getting a head coaching job. He's not a big name, but he's a very good coach. It's not a sexy hire, but it could pay off. 
7. Matt Patricia, Patriots defensive coordinator
Patricia isn't a well-known name among casual fans, but he's served under Bill Belichick for years. Patricia started on the offensive side of the ball, spending two years there. He then switched to defense and was promoted to defensive coordinator in 2012. He's a literal genius - he has an aeronautical engineering degree and is the closest thing you'll find to a literal rocket scientist in the NFL. 
6. Teryl Austin, Lions defensive coordinator
Austin has had a relatively short NFL coaching career to this point, but he's been extremely successful. He gets a lot of the credit for the Lions' breakout season this year, which has been largely credited to the play of their defense. Austin will be a candidate for nearly every head coach opening this offseason, so the 49ers will likely give him a call as well.
5. Tom Cable, Seahawks assistant head coach/offensive line coach
Cable starts our top five portion of the list, all of whom have already interviewed with the 49ers. Cable has been the offensive line coach with Seattle since the start of the 2011 season after spending three years as head coach of the Oakland Raiders. His tenure with Oakland ended after an 8-8 season in 2010, which came amidst accusations of him punching assistant coach Randy Hanson.
4. Anthony Lynn, Bills offensive coordinator/interim head coach
Lynn was promoted to offensive coordinator in Week 3 after Buffalo fired Greg Roman, and he had so much success in leading the offense that he's now serving as the interim head coach. He already has the respect of the players and that's huge. With Buffalo opting to hire Panthers defensive coordinator Sean McDermott over him, Lynn is a candidate. 
3. Sean McVay, Redskins offensive coordinator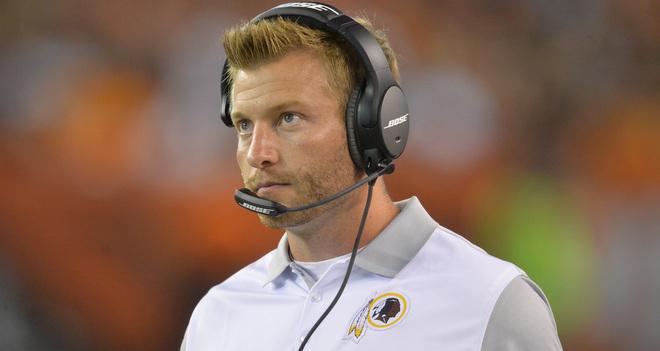 Looking for a legitimate dark horse? How about McVay, a name few casual fans outside of the DC area will know. He's been the OC for the Redskins since 2014, and done a damn fine job. Here's the rub though: he's just 30 years old, which would make him the youngest head coach in the NFL. There is a connection to the 49ers as well. His grandfather, John McVay, was a critical part of 49ers' front office from 1980 to 1999. The potential young stat should be a head coach sooner than many expect. 
2. Josh McDaniels, Patriots offensive coordinator
McDaniels has rebuilt his reputation while leading the Patriots' offense for the past five seasons after a bad run as head coach of the Broncos. He wants to be a head coach again, but I'm not sure he'll leave for just any job. Will he even have interest in the 49ers? He'll get a call, but might not end up the Bay Area. 
1. Kyle Shanahan, Falcons offensive coordinator
Shanahan has been in the mix for getting a head coaching job the past few seasons, and this should be the year he gets one. He also happens to make perfect sense for the 49ers. He can serve as the head coach and his dad, Mike Shanahan, can take over a role in the front office (perhaps as the GM). As of now, I view Shanahan as the favorite to land the 49ers job. 
Back to the San Francisco 49ers Newsfeed
Related Topics: 49ers Rumors, Mike Smith, Matt Patricia, Teryl Austin, Jim Bob Cooter, Dave Toub, 49ers Head Coach, Sean McVay, Anthony Lynn, Chip Kelly, 49ers News, Doug Marrone, Mike Shanahan, Kyle Shanahan