San Francisco 49ers fans have been keeping an eye on a number of interesting 2015 draft prospects...but it's a safe bet that very few of them have been keeping tabs on Central Florida WR Breshad Perriman.
Mel Kiper's latest mock draft (Insider only) for ESPN has the Niners taking Perriman 15th overall, and that would easily be one of the most shocking selections in team history. Perriman lands somewhere between the fourth and fifth rounds in most mock drafts we've seen, and some draft scouts have him rated as low as the 26th-best receiver in this class.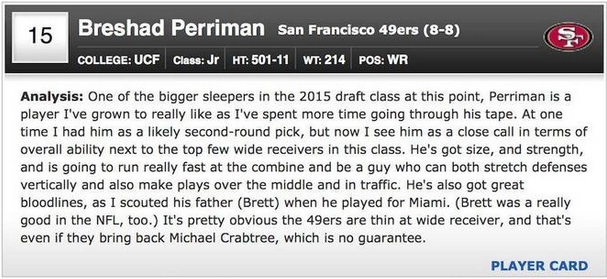 The 49ers are frequently expected to take a wide receiver in the first round, but rarely do. The team has a definite need at the position even if Michael Crabtree comes back, and there's a real chance they'll take a WR with the 15th pick...but it probably won't be Perriman.
Perriman looks good in the gym or on the track, but his results on the field were far from first-round caliber. While he's fast and has great size, his hands need serious work...and the 49ers should take a lesson from their neighbors across the Bay when it comes to drafting speed over hands (Darrius Heyward-Bey, anyone?). It's troubling that Kiper doesn't even mention Perriman's issues with dropped passes, and it reads like he included him here for the sole purpose of telling readers he also scouted Perriman's dad.
Kiper's mock drafts have always been more of a curiosity than an accurate prediction of where things go, but even with that in mind this is still a mind-boggling pick. Unless Jed York and Trent Baalke are sharing some of Kiper's peyote, there's virtually no chance the 49ers spend a first-round pick on Perriman. That doesn't mean he won't end up in San Francisco, though - there's a very good chance he'll still be on the board later on. If the Niners do use their first-round pick on a WR, West Virginia's Kevin White and Louisville's DeVante Parker are much more likely selections.
Back to the San Francisco 49ers Newsfeed