The San Francisco 49ers scuffled in Jim Tomsula's first and only season as head coach, finishing with a 5-11 record before replacing Tomsula with former Philadelphia Eagles HC Chip Kelly. It's a new era by The Bay and we're feeling VERY optimistic about the 49ers' chances going forward. Here's our list of 3 Reasons Why The 49ers Will Make The 2017 NFL Playoffs.
1. Chip Kelly/Colin Kaepernick
Kaepernick is one of the most athletically gifted quarterbacks in the NFL, and Chip Kelly is the right coach and the right time to make the most of his skill set. With Kelly around, Kaep is going to be able to flash his wheels to both extend passing plays and make things happen as a runner. 
People may have forgotten how good Kaepernick can be, but they'll remember next season when Kelly is using him to the very best of his abilities.
2. Retooled Defense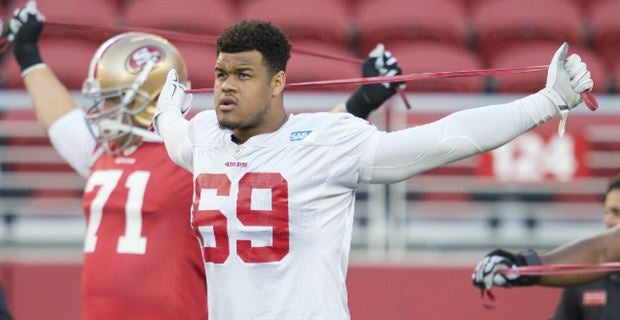 The 49ers have plenty of depth to work with the secondary and some front-seven standouts like Arik Armstead, Ian Williams and Aaron Lynch. San Francisco's defense was gutted by personnel turnover and inconsistent play this past season, but there's enough talent here to build a foundation upon for draft selections and free agents to make it once again into a dominant defensive unit.
3. A New Direction
For all the criticism Jed York and Trent Baalke receive, they have a fantastic chance here to turn the franchise around. An effective draft strategy combined with the free agency recruiting boost a "name" coach like Chip Kelly brings can turn this team from also-ran to contender in a flash. It's not rare anymore for a team to make the jump from worst to first, and the 49ers have as good of a shot as any.
Back to the San Francisco 49ers Newsfeed
Related Topics: 49ers News, Chip Kelly, Colin Kaepernick, Arik Armstead