The San Francisco 49ers ended the 2015 regular season on a high note with a 19-16 overtime win over the St. Louis Rams, but they still finished just 5-11 amidst a haze of retirements and underachievement. With the high expectations this franchise rightfully has, it's time to completely reevaluate things and start making some radical changes. Here's 3 Reasons Why The 49ers Should Fire Jim Tomsula.
3. No One Is Laughing
Any time we see a national expert address Tomsula on television, it's always with a wry smile peaking out of the corner of their lips. Everything about Tomsula has become a punchline now, from fart sounds in an early interview to the hundreds of stills which circulate the Internet of the 49ers HC making goofy faces on the sideline.
It's a depressing circus of Internet memes and disrespect on both social media and in the traditional media with Tomsula on the sidelines. There's not much here to suggest that will change in 2016.
2. The Colin Kaepernick Situation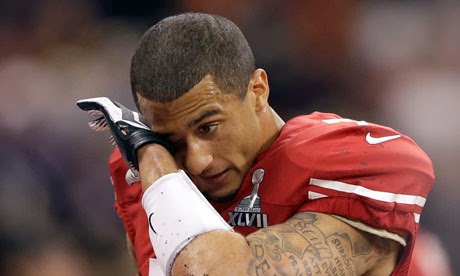 Via Ann Killion of the SF Chronicle:
"Fox's Jay Glazer, a frequent recipient of information coming from the 49ers' leaky pipeline, reported that Colin Kaepernick's time with the 49ers might not be over. Why? Because if the 49ers hire another head coach, that coach might decide he wants Kaepernick on the team."
If it's going to be a decision keeping Kaepernick/firing Tomsula and releasing Kaepernick/keeping Tomsula, Kaepernick's salvagable enough as an athletic talent to win that battle. While the 49ers can move on from Kaepernick with little to no financial consequence, committing to Blaine Gabbert long term or rolling the dice this offseason by looking for a new starter may set this team back even further than trying to solve the Kaepernick riddle.
Kaepernick looked extremely uninspired playing for the Geep Chryst/Tomsula duo. Who's to say another coach can't bring the fire back?
1. Let's Try Again
After the controversial reassignment of former president Paraag Marathe, CEO Jed York, GM Trent Baalke and COO Al Guido have emerged as the new brain-trust trifecta of the 49ers. With such a drastic shift in the team's power structure, it only seems logical that the trio will continue cleaning house and try to safe public face by clearing out the unpopular Tomsula. 
Tomsula reportedly clashed with Marathe over the use of analytics in game-planning, but Marathe's firing wasn't a vote of confidence for Tomsula -- it was more based on Jed York's suspicions that Marathe had been leaking stories to the media. In short, it's an absolute mess in SF and the only way to prove a willingness to change things (at least, to the casual fans who buy a majority of the tickets) is to dump Tomsula.
Back to the San Francisco 49ers Newsfeed
Related Topics: Paraag Marathe, Jed York, Jim Tomsula, Trent Baalke, 49ers News