With the regular season over, the San Francisco 49ers have turned their attention to the offseason. The team's first priority is re-signing its own players, and the 49ers have several key contributors they need to bring back next season - but also a few they could elect to get rid of.
San Francisco has just over $39 million in cap space, so money isn't a huge factor for the team right now. However, the 49ers are still likely to cut a few players whose contracts don't match their level of play. With that in mind, here are three players the 49ers could cut this offseason. 
QB Colin Kaepernick
This seemed like a nearly forgone-conclusion after Kaepernick was benched in favor of Blaine Gabbert earlier this season. But now that Chip Kelly is the head coach in San Francisco, Kaepernick might be staying. He's a perfect fit for Kelly's system and Kelly could want to keep Kaepernick. Kaepernick's contract is complicated, but cutting him would save the team $8 million of his nearly $16 million cap hit next year. It's large hit, but the 49ers will likely elect to keep Kaepernick for another year. If he struggles again, the team can save nearly $15 million by dumping him next year. For more on Kaepernick and the 49ers, download the Chat Sports Android and iPhone app. 
OLB Ahmad Brooks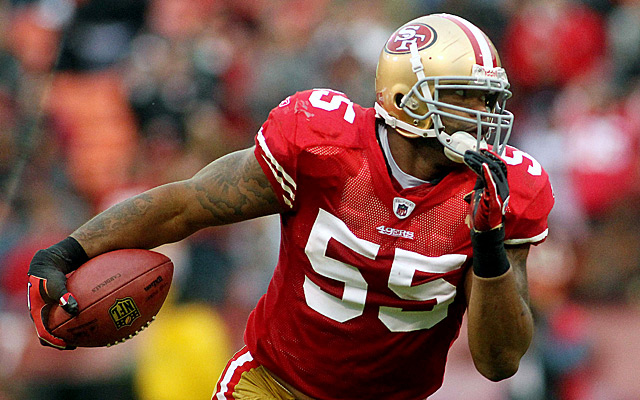 Brooks has the second-highest cap hit of any player on the roster, behind only Kaepernick. He's not worth a $9.6 million cap hit, as he's aging and regressing as a player. Cutting him would save the team $6.5 million. He's not as effective as he once was, and the 49ers can spend that money on a more effective player at LB or at a different position. Don't be surprised if Brooks is cut by the 49ers this offseason. Download the Chat Sports Android and iPhone app for more on Brooks. 
OT Erik Pears Pears struggled last season and cutting him would save the team over $2 million. He has just a $250,000 cap hit, and he's not worth keeping on the roster to save that little money. Expect the 49ers to dump Pears this offseason. Check out the Chat Sports Android and iPhone app for the latest 49ers news. 
Back to the San Francisco 49ers Newsfeed
Related Topics: Ahmad Brooks, 49ers Rumors, Erik Pears, Colin Kaepernick, 49ers News