The 49ers once again produced one of the most impressive draft classes in the NFL in 2014.
Although this team will be driven primarily by returning veterans, San Francisco will boast some exciting young play makers off the bench – all of whom have the chance to make an impact for a Super Bowl-caliber football team.
Here are three rookies who have the opportunity to explode onto the scene in 2014: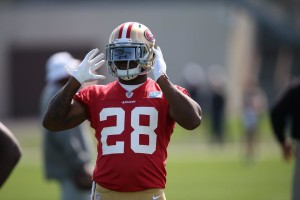 Carlos Hyde – Considered by many to be the top running back in the 2014 draft class, Hyde is locked in as the primary backup to aging star Frank Gore.
With Kendal Hunter out for the season after tearing his ACL and Marcus Lattimore recovering from a knee injury of his own, Hyde has risen up the depth chart since being drafted three months ago.
LaMichael James, Jewel Hampton and Alfonso Smith are the only other healthy running backs on the roster, but none of them offer nearly the same upside as Hyde.
Gore is not going to give up his starting role unless he suffers an injury, but Hyde should see a solid amount of carries in order to keep Gore fresh and effective throughout the season.
For a San Francisco team that has averaged nearly 500 rushing attempts since Greg Roman became offensive coordinator in 2011, Hyde's role as the number two back puts him in a position to make a significant impact this season, even if Gore plays all 16 games.
Obviously the 49ers best path to success is having Gore on the field, but if something were to happen to the franchise's leading rusher, Hyde will be presented with the opportunity to show San Francisco why he could be their future running back.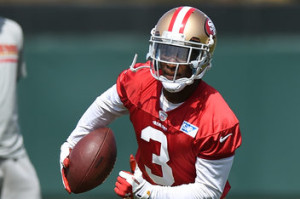 Bruce Ellington – An underrated selection in the fourth round, the former Gamecock comes into the season hoping to take advantage of his speed and versatility.
Ellington has the opportunity to return kickoffs and punts this season if he can beat out James – and with James nursing a dislocated elbow, Ellington has had the chance to get first crack at winning the job.
His initial path to playing time will come if he can win that special teams job, but don't count out his ability to contribute from the receiver position either.
Although currently buried behind veterans Michael Crabtree, Anquan Boldin and Steve Johnson, Ellington has a legitimate shot to win the number four receiver role over the likes of Brandon Lloyd and Quinton Patton.
Ellington should fit extremely well as a slot receiver, which means Johnson is really the only veteran ahead of him in terms of positioning, as Crabtree and Boldin play on the outside.
Ellington's dynamic speed also offers the Niners an element that their top three receivers lack. Don't be surprised to see Greg Roman take advantage of that speed with a few Ellington-specific plays each week.
His contributions from week-to-week may be inconsistent initially, but if he can get his feet underneath him, Ellington can be a home run threat that the team has lacked for quite some time.
Chris Borland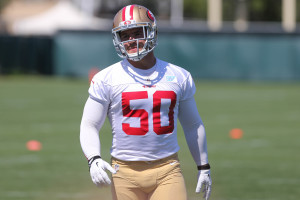 – The Niners received good value out of Hyde and Ellington's draft slot, but Borland may present the most value among those players when all is said and done this year.
The 49ers took the former Wisconsin Badger in the third round and have already seen impressive instincts from the young linebacker.
Borland is heading into a position that is one of the deepest on the team, but with Aldon Smith (facing a potential suspension) and Navarro Bowman (recovering from a knee injury) likely absent for the first half of the season, he has a chance to see the field regularly in a weakened linebacking core.
As it stands, Patrick Willis and Michael Wilhoite sit atop the inside linebacker depth chart, but Borland can make a name for himself with a strong preseason.
If he continues to impress, there's reason to believe Borland could see the field ahead of Wilhoite – who is looking to claim his first starting job as well – by the time week 1 rolls around.
There's also no guarantee that Bowman recovers quick enough to see the field this season, meaning Borland could become a full season starter in his rookie year.
Even without a starting gig, Borland should see the field enough to make an impact and could wind up making a few starts regardless of how the depth chart looks coming out of the preseason.
For more content by Chris Kersevan, check out his writer's page and on Twitter @cker7
Back to the San Francisco 49ers Newsfeed