Sometimes the MLB Trade Deadline is overblown (ok, all the time), but there's still something to be said for those who address their needs with gusto and those who muck things up with inaction and/or organizational mishaps. The San Diego Padres fall in the latter category. Here 3 Reasons Why The Padres Front Office Gets An F At The Deadline.
Wait, What?
So, remember that insane Padres offseason where it seemed like half of Major League Baseball was set to join the Friars? This trade deadline was the antithesis of that. San Diego's only transaction was to ship off an underachieving center fielder (Abraham Almonte) for a replacement-level lefty reliever (Marc Rzepczynski). That's bizarre when you take into account...
There Were Supposed To Be "Big" Things Going Down
The last few days before the July 31st cutoff were flush with rumors that the Padres were dangling almost everybody and anybody on their MLB roster for blue-chip prospects. Justin Upton, Craig Kimbrel, 3/5 of the starting rotation and more were all tabbed as the most attractive of trade bait. What came out of that? A big, wet PFFFFFFT. Nothing came of any of the trade rumor bluster, and the Padres now look like a West Coast version of the Philadelphia Phillies -- mismatched and hopeless. That could turn around this offseason or in 2016, but we're not holding our breath.
Preller's Fall From Grace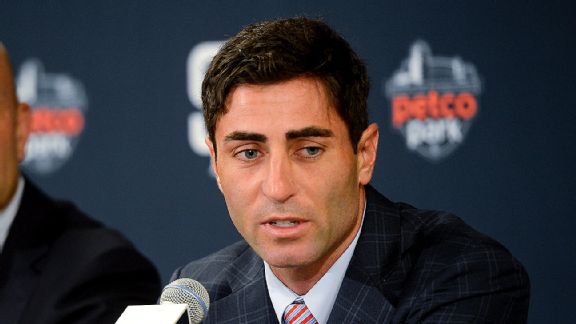 Has a Major League Baseball general manager ever gone from wunderkind to pariah at the warp speed that AJ Preller has? The Padres' farm system could be full of tumbleweeds and we'd be none the wiser, and Preller failed to leverage any of his bevy of attractive trade pieces (Justin Upton, Craig Kimbrel, 3/5 of the starting rotation) to do anything about it. San Diego's the great underachiever of this baseball season, 7.5 out of the second Wild Card spot and spinning their wheels against NL contenders constructed for cohesion not name value. Unless Preller gets trade radical this offseason, next season doesn't look much better.
Follow our San Diego Padres team page for the latest Padres news!
Back to the San Diego Padres Newsfeed
Related Topics: MLB, MLB Trade Deadline, Padres News, AJ Preller, San Diego Padres