The San Antonio Spurs and Los Angeles Clippers are two teams at different ends of the championship contender spectrum. The Spurs are still riding with their timeless Big 3 of Tony Parker, Tim Duncan, Manu Ginobili in their hunt for a sixth title since 1999, while the Los Angeles Clippers are a budding Western Conference power still itching to create their own legacy. Last year's Western Conference quarterfinals series was an epic clash of styles ultimately won by the Clippers in a grueling, highlight-reel worthy seven-game showdown.
Heading into the 2015-16 NBA season, both teams are once again legitimate NBA Finals contenders taking very different paths. Who's got the edge? Here's our breakdown.
The Case For The Spurs
We opened with a quick homage to the Parker/Duncan/Ginobili super trio, but the real X-factor for San Antonio is the addition of Lamarcus Aldridge on a max contract. The last time the Spurs reached out for an All-Star caliber player in free agency was Dennis Rodman back in 1993. 
San Antonio knew exactly what they were doing going out of their comfort zone here. Aldridge is the piece that will kick an elite offense into overdrive, creating spacing nightmares for opposing teams with his ability to damage both in block and in the mid-range. All of sudden, there's another Spurs shooter to chase around the court and account for with potential double teams while setting zones or shifting into one-on-one w/ help defense.
San Antonio's offense will undoubtedly rank near the top of the NBA in all efficiency ratings, and their defense may be even better. The length and tenacity of Kawhi Leonard and Duncan force plenty of pull-up jumpers as opponents rush shots to escape the Leonard/Duncan halfcourt machine. You're never comfortable on either side of the court with the Spurs, and they've built championship team after championship team on that.
The Case For The Clippers
After a successful DeAndre Jordan hostage crisis, the Clippers' main core remains intact. Chris Paul creates the framework of the Clippers' scoring engine, alternating between all-world facilitator and knockdown heat check master. He's not a Stephen Curry lights out shooter, but he's a perfect prototype point guard and a less ball-centric on-court commander. That's a perfect fit for this Los Angeles team who is relying more and more on Blake Griffin as a finisher from 15 feet on in.
Blake Griffin took a major leap last year, flashing a crafty mid-range game to go with his slash-and-dunk dominance. He's in the Kevin Durant tier of forwards who can suddenly turn a switch and completely own a game from baseline to baseline. Even when he's having an off night, he's better than 90% of big men in this league.
Keeping Jordan doesn't do much for the offense per se as he's not remotely a threat outside five feet, but his presence in the paint alone keeps this Clippers team defense afloat. He changes so many shots both with his pure mass and crafty footwork that teams are sometimes forced to exclusive shoot mid-range jumpers on out to limit his impact. When you take away most teams' slash-and-kick guard play, you can take away their offensive arsenal full stop.
Advantage...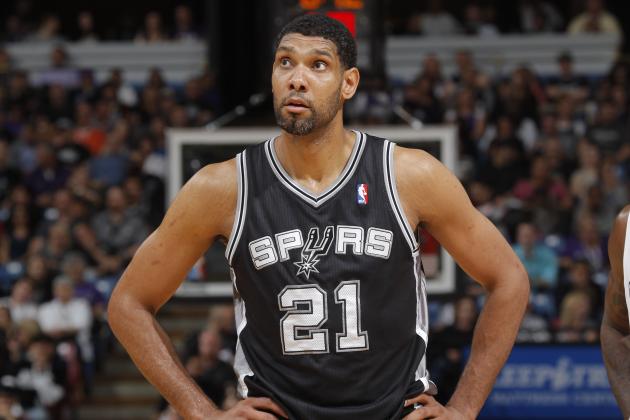 The San Antonio Spurs are a more complete team from top to bottom. The Los Angeles Clippers are a much more NBA League Pass-friendly squad, but the Spurs are a perfectly-crafted powerhouse built to tear apart the best teams in the league by killing with efficiency. The Clippers broke through in last year's Western Conference Quarterfinal against the Spurs, but there's too many questions with them to take that small sample size as a full sea change.
Back to the San Antonio Spurs Newsfeed
Related Topics: Spurs News, Blake Griffin, Chris Paul, Clippers News, Tony Parker, Manu Ginobili, LaMarcus Aldridge, DeAndre Jordan, Tim Duncan