The San Antonio Spurs have hired European legend Ettore Messina as a top assistant coach.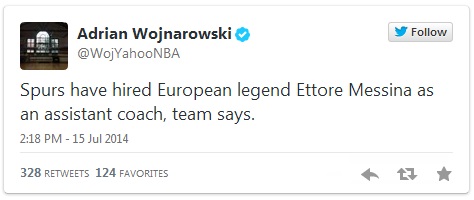 Messina won 11 league championships and 11 cup competitions in Europe, including four Euroleague (Europe's most prestigious basketball tournament) wins.
Messina's coaching pedigree saw him linked to a number of NBA head coaching jobs (including the still-vacant LA Lakers position), and securing him as an assistant is something of a coup for San Antonio. It's possible (although still unconfirmed) that Greg Popovich sees Messina as his long-term successor, but considering the attention Messina will draw from teams looking to fill head coaching vacancies, that's far from a guarantee.
This will be Messina's second NBA job - he briefly served as a consultant for the Lakers before being hired by CSKA Moscow back in 2010-11.

Back to the San Antonio Spurs Newsfeed