The Pittsburgh Steelers fell short of their Super Bowl expectations last season, and they're looking to the draft to help them sure up some weakness to make a run at a title again next year. Here are three players the Steelers should target in the first round of the NFL Draft:
3) Emmanuel Ogbah, OLB/DE, Oklahoma State Cowboys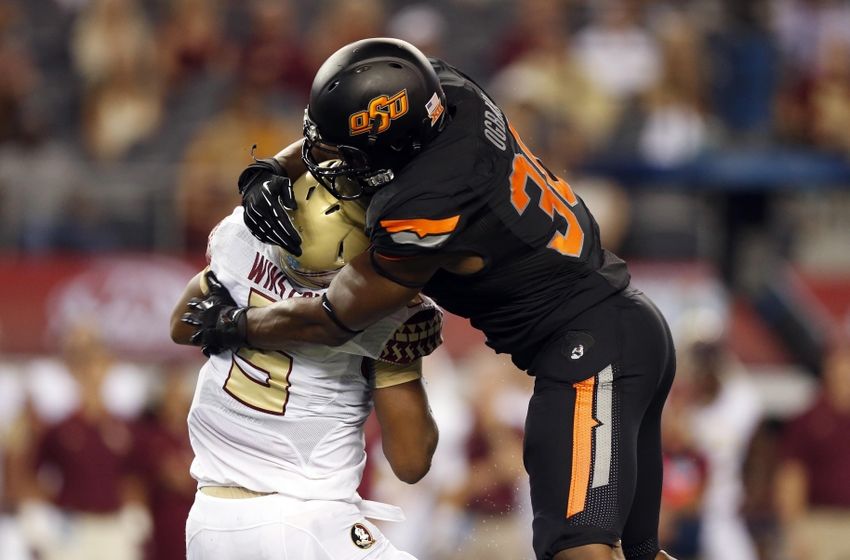 Of the 3-4 edge rushers worth a first rounder, Ogbah seems like the most likely to fall to Pittsburgh and be worth the pick. The Steelers need a long-term replacement for James Harrison, and Ogbah is the kind of versatile prospect they love. He already looks like an NFL pass rusher, and can play as a 4-3 DE and 3-4 OLB. He's an athletic freak that would be a menace rushing across from last year's first-round pick, Bud Dupree.
2) Mackensie Alexander, CB, Clemson Tigers
There's a chance Alexander is gone by the time the Steelers are on the clock, but Pittsburgh has made him a top target. The Steelers were one of the worst teams against the pass last year, and Alexander is an agressive prospect who is excellent in man-to-man coverage - making him a perfect fit.
1) Vonn Bell, S, Ohio State Buckeyes
The Steelers have a giant need at safety, and Bell could be the guy to hold up the back end of their defense for the foreseeable future. He never missed a game at Ohio State and picked up nine career interceptions, showing excellent instincts to go with his raw physical talent. Bell is the rare rookie who can make a major impact right away in the NFL, and the Steelers will certainly welcome that.
Back to the Pittsburgh Steelers Newsfeed
Related Topics: Vonn Bell, NFL Draft News, NFL News, Mackensie Alexander, Emmanuel Ogbah, Steelers Draft Rumors, Steelers news, NFL Draft, 2016 NFL Draft