No other team in NFL history has brought together generation-defining talent in one place quite like the Pittsburgh Steelers. With a record six Super Bowl championships spanning the decades, the Steelers are the model franchise that other NFL teams hope to emulate. These next eight players have played a major part in the teams success over the decades, bringing crowds to their feet and titles home to the Steel City.
Here's our list of The 8 Best Players In Pittsburgh Steelers History.
8. C Mike Webster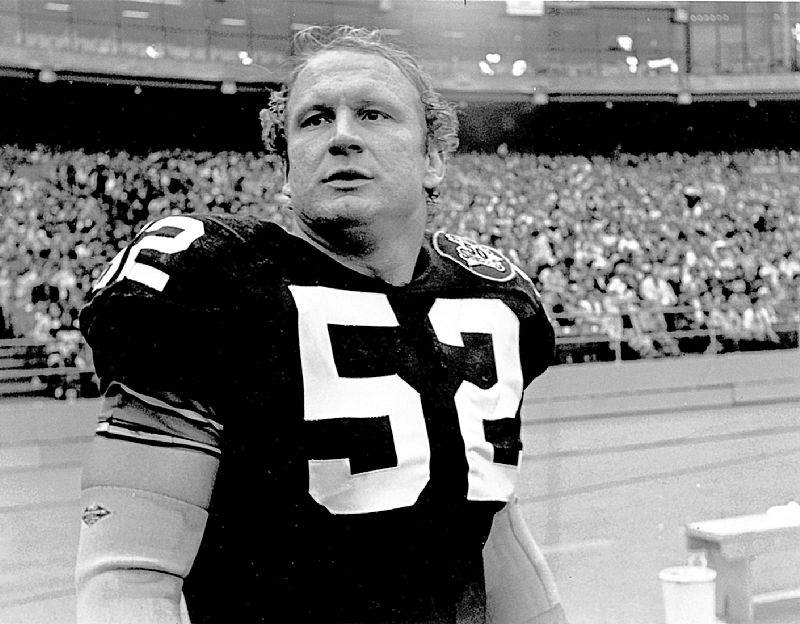 The "Steel Curtain" may have shifted the public eye onto the defensive side of the ball, but that does nothing to detract from the brute force and unparalleled dependability that "Iron Mike" brought to the table. Webster is on the shortlist of the NFL's greatest all-time centers, logging 150 straight games on the road to playing more seasons in Pittsburgh than any other player in franchise history.
7. LB Jack Ham
Ham forced 53 turnovers over the span of his career -- the most by any linebacker in NFL history. Gritty and absolutely explosive off the snap, Ham was voted a first-team All Pro six times over the span of his Hall of Fame career. Without a shadow of a doubt, Ham is one of the greatest linebackers to ever walk onto an NFL field.
6. DB Rod Woodson
There is not a single defensive back in the history of the game that laced his cleats with any more intensity than Rod F$%#ing Woodson. His on-the ball instincts were only matched by the viciousness that he used to intimidate and destroy opposing skill-position players. Woodson helped to revolutionize the art of the modern defensive back, bringing a defensive lineman's grit to the Pittsburgh Steelers' secondary.
5. QB Terry Bradshaw
Terry Bradshaw owned America during his career-long run to four Super Bowl championships, capturing the football zeitgeist while delivering as one of the most clutch signal callers in the history of professional football. After two Super Bowl MVPs and a career of slicing and dicing opposing secondaries, Bradshaw retired the franchise's leader in all major passing categories.
4. CB Mel Blount
While Rod Woodson brought physicality to the Steelers' secondary at the peak of the league's popularity, he was simply carrying a torch originally lit by Mel Blount. Blount's 14-year career with the Steelers was a highlight reel of bone-crunching hits and focused aggression. He's remains the standard-bearer for non-finesse defensive backs to this day.
3. FB/RB Franco Harris
Harris still owns space in Steelers fans' hearts both young and old, and there's no risk of that changing anytime soon. Still the all-time franchise leader in rushing yards (11,950) and rushing touchdowns, (91) Harris will forever be immortalized by his Immaculate Reception catch and run. However, his 13-year season was much bigger than a single moment -- no matter how earth-shaking said moment was.
2. LB Jack Lambert
Lambert's toothless grin is/was as American as apple pie. An absolute legend in his time, Lambert crushed opposing ball carriers with glee as he became synonymous with the spirit of the team's game-changing defense of the 1970s. A Hall of Famer through and through, Lambert made nine Pro Bowls and was named a first-team All Pro seven times.
1. DT Joe Greene
There's defensive linemen, and then there's "Mean" Joe Greene. If you have a conversation about the greatest players to ever play defense in the NFL and you don't mention Greene, any subsequent argument you make becomes instantly invalid. No player in NFL history has matched the utter disruption and chaos Greene created, and it's unlikely that any player ever will.
Follow our Pittsburgh Steelers team page for the latest Steelers rumors!
Back to the Pittsburgh Steelers Newsfeed