The Pittsburgh Steelers took their rightful place atop the AFC North in 2014, and there's plenty of reasons to think that 2015 will be even better. Here are four reasons why the Steelers will be back atop the AFC North mountain this year.
1) Le'Veon Bell's dominance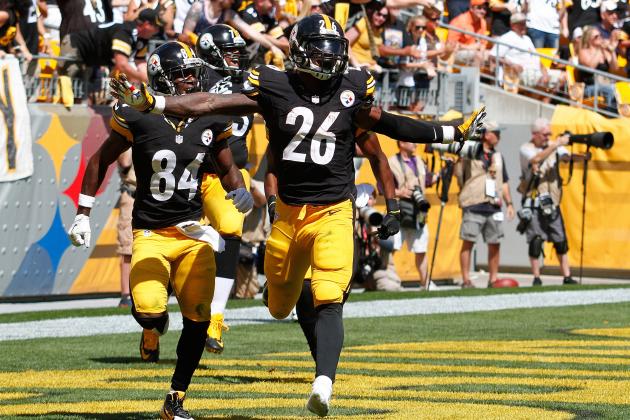 Bell is sitting out the first two games of the 2015 season as a punishment for his marijuana arrest last year, but can you imagine just how determined he's going to be to make the team's last thirteen games his playground. He morphed into one of the most dynamic and explosive skill-position players in the league last season, and he'll have added motivation to showcase that after his suspension. Bell will be most of Pittsburgh's offense again in 2015, and his continued improvement will take the offense to another level.
2) Influx of young defensive talent
Mark our words — Kentucky pass rusher Bud Dupree is going to be considered an absolute mid-first round steal when he reaches the prime of his NFL career. Dupree headlined a defensive haul for the Steelers in the 2015 NFL Draft, joining corners Senquez Golson (Ole Miss) and Doran Grant (Ohio State) to form one of the best rookie defensive trios of this year's class. Pittsburgh's defense has been struggling to find an identity in recent years while the unit has undergone transition, but these three will definitely help them find it.
3) Ben Roethlisberger's continued greatness
Big Ben's 11th NFL season in 2014 was easily his best, as he set career highs in passing yards (4,952) & completion percentage (67.1%), along with tying his career best for touchdown passes (32). When your franchise quarterback averages 300 yards+ for the first time in his age-32 season, you know the good times are just beginning.
Follow our Pittsburgh Steelers team page for the latest Steelers news!
Back to the Pittsburgh Steelers Newsfeed
Related Topics: Pittsburgh Steelers, Le'Veon Bell, NFL Playoffs, Ben Roethlisberger, NFL, Steelers news